Article
|
Leadership
How We Onboard New Software Engineer Hires with Eddy
Reading time: ~ 5 minutes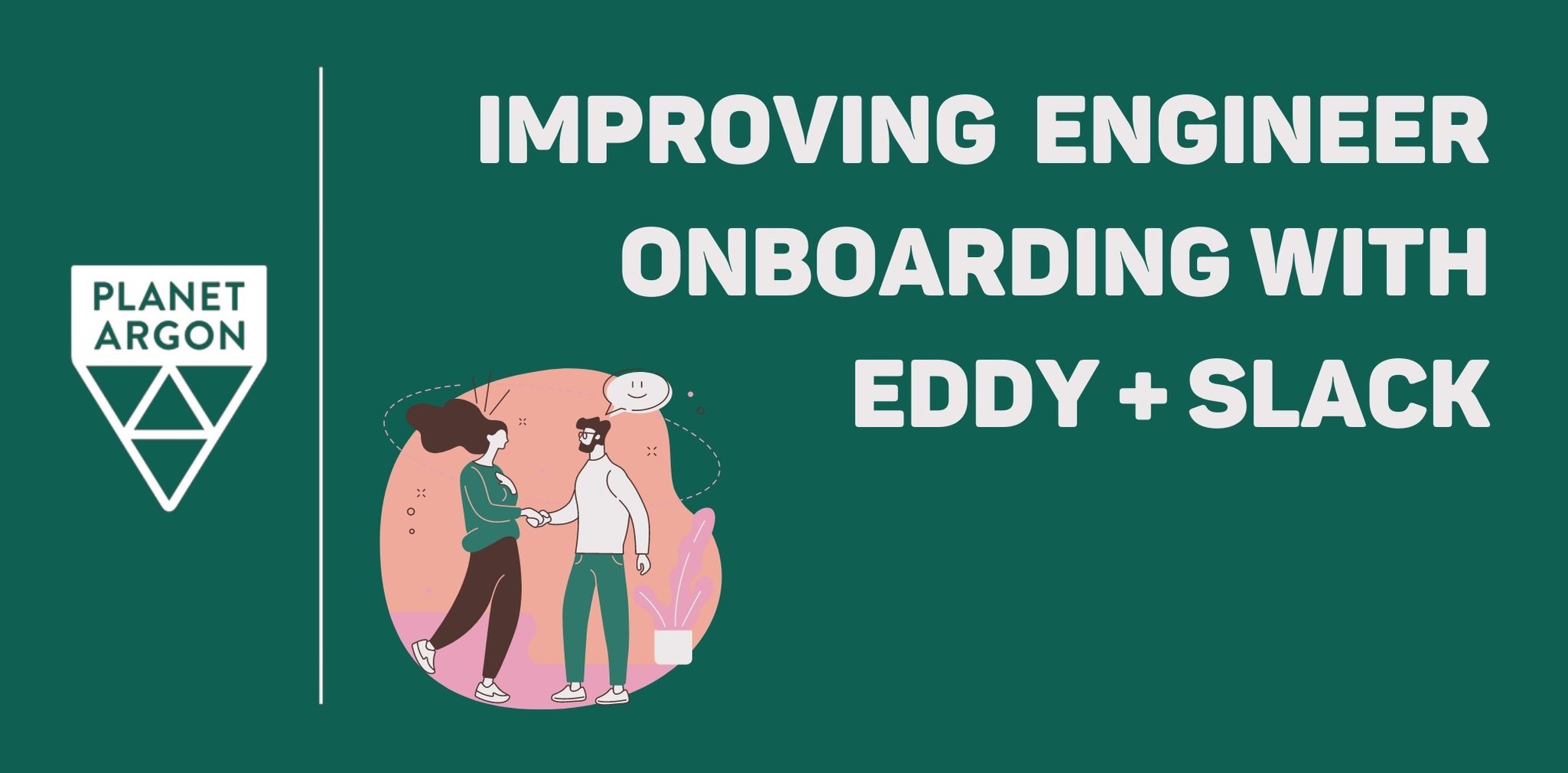 There's been a lot of talk lately about the struggle hiring managers are having finding and hiring talent. While this is certainly true, this focus on hiring is eclipsing an equally (if not more) important conversation: How do you onboard your new hires once you find them?
Historically, onboarding new hires at Planet Argon has always been a challenge. While we have always had an abundance of onboarding documentation, we lacked an efficient way to introduce that documentation to new hires, let alone scale that process to multiple hires at once. Without any automated onboarding tools to use, hiring managers at Planet Argon have had to manually facilitate discussions between new hires and team members, schedule the onboarding topic intake timeline (without micromanaging!), and track where in the onboarding process a new hire was at any given point.
The manual nature of our onboarding process often left hiring managers feeling overworked and inefficient, new hires feeling overwhelmed and confused, and project managers and other team members uncertain of their responsibilities in the process.
Oof.
Luckily for me, a little over a year ago I was approached by an acquaintance of mine, Kristen Buchanan, about a new tool she was building to help hiring managers like me improve their onboarding process. Kristen was about to launch the beta version of her new app, Edify, a Slack-based onboarding tool that helps managers better organize and present onboarding material to their new hires. Nicknamed "Eddy", this tool would allow me to categorize onboarding material and then use Slack to walk a new hire through our existing wealth of onboarding docs.
I was intrigued. This structured roll-out sounded exactly like what we were missing from our onboarding processes at Planet Argon. After a few thorough conversations about my needs and a demo of the product, I signed up for the beta version and used it on future new hires.
How I Use Edify
Edify is a pretty turnkey solution for onboarding, but it does require some work getting it up and running. The general set-up process is as follows:
Gather onboarding docs and create the onboarding plan. This includes answering questions, providing links to relevant documentation, and assigning existing team members as subject matter experts.

Add the new hire to Slack and ask the Eddy bot to begin onboarding. After picking who you want to onboard, Eddy will send them a welcome DM and begin the onboarding process.

Check in on your new hire's progress with the dashboard or using simply asking Eddy in Slack. The dashboard provides a hire-level overview of where the new hire is in their onboarding process. You can also DM Eddy in Slack to get a list of the onboarding sections the new hire has completed, skipped, and still has left to do.

Regularly audit and update onboarding docs per edify's suggestions. This is one of my favorite features of this tool. The dashboard will call-out sections that haven't been updated in a while or are missing entirely. This helps me keep my onboarding documentation fresh and relevant to our existing team and company processes.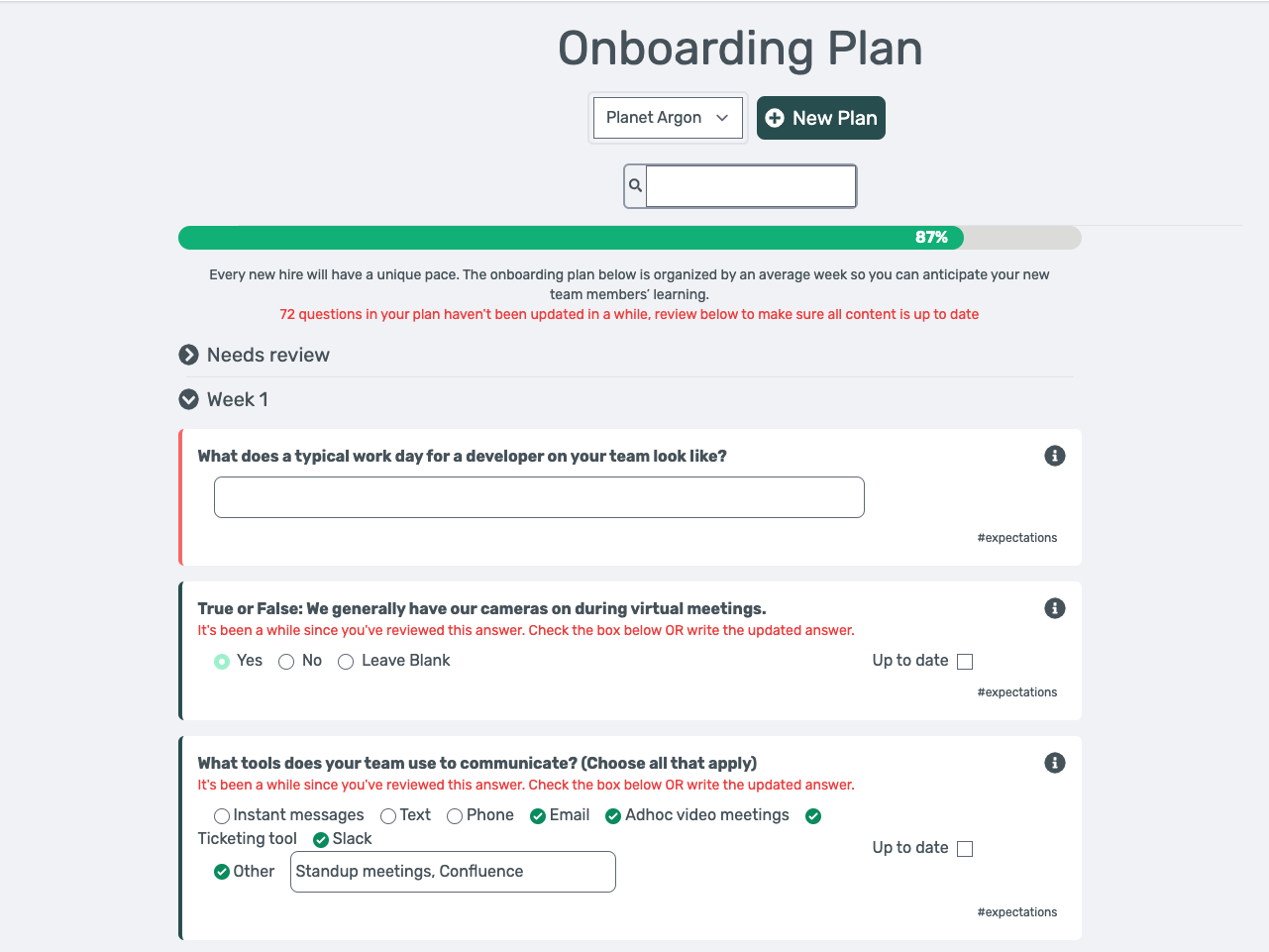 This feature really helps me keep track of the gaps in our onboarding process and make sure we're filling those gaps before we bring on any new developers to the team.
Note: Edify was designed for product companies, so I had to tweak the tool a bit to fit our agency model. It still works great, but if you're an agency thinking of using Edify expect that some of the prompts or sections might not be 100% relevant to your team.
Outcomes
Though it was a hefty lift to get my first onboarding plan set up, the payoff was quick and abundant. Our new hires are no longer overwhelmed with document dumps their first week, and I'm not in the dark when it comes to how far along they are in their onboarding process. More specifically, Edify helped improve our onboarding processes by:
Facilitating communication between team members. The Eddy Slackbot will prompt your new hires as well as existing team members to meet and talk about specific topics or just get to know each other. New hires are told who to reach out to if they have questions about any of the onboarding assignments, and it even prompts new hires and their onboarding buddies with ice breaker questions to help get their conversations started. Before Eddy, I would have to manually connect each team member with the new hire and make sure they got a meeting scheduled. While I'm still involved in helping facilitate those meetings, Eddy gives a lot more autonomy to new hires and team members over when to connect and what to talk about.

Scheduling documentation review. Before Eddy, I would often block off times on a new hire's calendar to review specific sections of the onboarding documentation. Because not everyone moves through docs at the same speed, this would often lead people to feel like they didn't have enough time to thoroughly review sections, or they would finish early and not know what to do next. With Edify's built-in timeline, new hires know what they can expect to learn and when, and if they move faster through the documentation than we expected they know what sections I'd like them to tackle next.

Giving me visibility into a new hire's progress. The Edify dashboard lets me know how far along my new hire is through the process and what I can expect them to have learned at any given time. This informs our one-on-ones and helped me structure better 30-, 60-, and 90-day reviews.

Making our onboarding process more scalable. Manually assigning onboarding topics to a new hire day over day and then checking in with them to make sure they read the documentation is not only micro-managing their onboarding experience, it also doesn't scale. Onboarding one new hire this way is tough; doing it for multiple new hires simultaneously was near impossible. Edify allows me to keep track of multiple new hire onboarding plans at once and see at a glance who might be falling behind or need extra attention.
Eddy's Future
Since I first started using Eddy, the team at Edify has already implemented a bunch of cool new features: a progress dashboard, onboard reports, more Slack commands, and an easier way to update onboarding plans. According to their team, 2022 is going to be an even bigger year for Edify. Planned features include a DM-based Q&A/search feature called Ask Eddy, Confluence and Github API integration, and a more detailed reporting platform. These features come from direct feedback from their beta users (myself included!) and will help bring even more visibility into my new hires' onboarding experience.
Conclusion
I've already seen great value in onboarding new team members using the Eddy bot, and I'm really excited about taking advantage of the new features the Edify team will be rolling out this year. If you're a hiring manager and are looking for a tool to help streamline your onboarding process and provide you more visibility into your team's onboarding experience, I couldn't recommend Edify more.