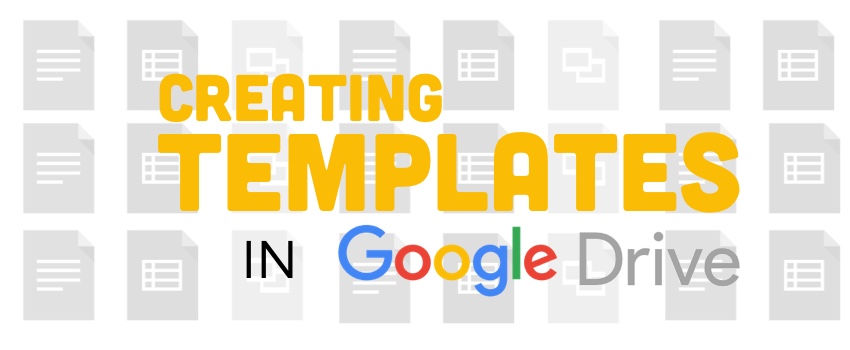 Why We Use Drive
The real-time editing and online sharing with Google Drive suite make it a no-brainer for our agency to create and manage most of our everyday documents and spreadsheets. As we work collaboratively with our teammates and clients, it's easier for us rather than the alternative of working on a document offline and sending it out as an attachment (plus most of us don't have the Office Suite license, so there's that).
So when our team looked at making our process more efficient with templates earlier this year, we were bummed out to find instructions like "open your document, then duplicate it". This is nothing more than a hack to how templates should work.
Needless to say, we were elated when Google announced they were bringing back team Google Drive templates. So, how do you make team templates you ask? Here's how to create templates in Google Drive:
Creating Templates
Identify/create your templates. These will continue to be "editable" in their original form – and those edits will be reflected in the templates that appear to your colleagues.
Go to the appropriate Drive space (depending on the type of file you are creating), ie Doc, Sheets, Slides, etc
Select the "Template Gallery" link in the upper right corner of the page. This one:


The template menu will expand
There you will see a tab for "General" and one for your organization

Select your organization and, unless someone has already added a template, you should see an empty gallery with a call-to-action to submit one


That is, unless your admin had previously disabled template submissions with the old gallery feature – which in case, you wouldn't see it, but you could ask the admin to enable this again

Choose to submit and you'll see a prompt to choose your template
Select the file you created in step one
Don't select to make a copy – I wouldn't. I personally hate having duplicate files for things (how do you avoid using the wrong version if your teammate updates the original file?). But, if you really want to, maybe you have your reasons.
Select the applicable category (note: these are the general categories – your admin can change these in the same place where they can choose to enable templates)

Once you submit, you should see your template in your team's gallery

That is, unless your admin has chosen to approve templates before they are available – then you won't see it until they approve it.
Using a Template
Now when you want to use a template, you will be able to find it two ways:
by going to "Docs" or "Sheets" in the Drive (see video) and then choosing "Template Gallery" to select your organization's templates


Note: As you use templates more and more, they'll begin to appear in the featured templates that appear before you select template gallery

Or by going into Drive > choosing "new" > then selecting the type of file ("Google doc" or "sheets". A handy "template" link would be great here) > and in that new document/sheets, choosing "new" (again) > selecting "from template" (this feels less intuitive to me)


once you select the template you want, it will open a new document
With both of these steps, however, the new document will just save it in your drive. So you'll still need to move it to the appropriate folder (this is where a template link in that Drive button would be handy – hint-hint Google team)


One last tip. Because the template gallery shows the templates as thumbnails, you might want to make sure all of the file names are simplified or have the distinguishing characteristic in the beginning of the name. For example, all of our files used to be named "TEMPLATE – CLIENTNAME, etc…". This meant when we loaded a bunch of our proposal files, they all looked and were named the same. So when you have templates that are all the same, just slightly different, having a telling name is key.
Now go and get your team organized with some Google Drive templates!