Article
|
Leadership
Building A Culture of Gratitude: Four Ways We Say Thanks
Reading time: ~ 3 minutes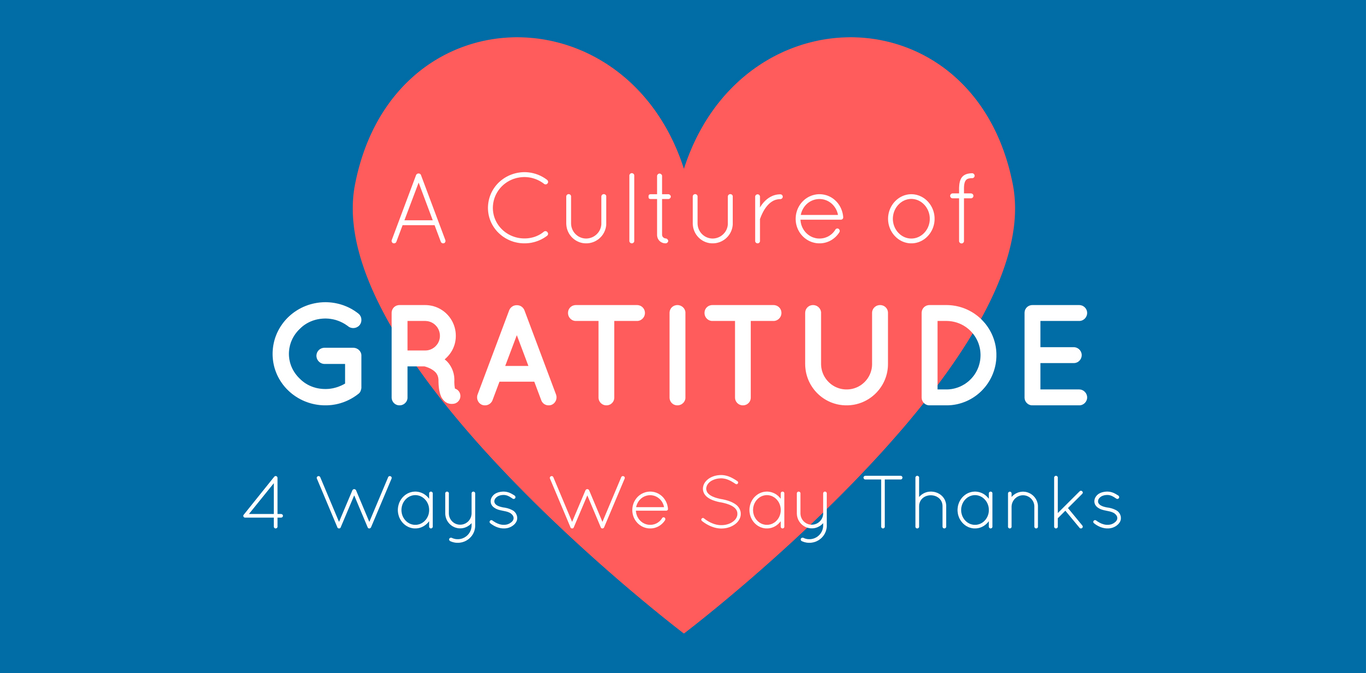 "Showing gratitude is one of the simplest yet most powerful things humans can do for each other" – Randy Pausch
The modern definition of gratitude is to "show the quality of being thankful; a readiness to show appreciation for and to return kindness". At Planet Argon, that's the type of culture we strive for every day and, while largely unspoken, is actually the foundation for everything we do.
For example, our core values are deeply rooted in gratitude. While carrying unique attributes on their own, we strive to show our clients and teammates gratitude for choosing to work with us by being "collaborative" with them, "proactive" on their behalf, "dependable" as a partner, "versatile" to new ideas, and "delightful" to work alongside.
Within our leadership team, we've talked of ways to strengthen and instill more culture into our team – one that includes an organic sense of gratitude. The ideal would be a culture that just is, and is not fake, forced or "planned". While we pride ourselves in having a team that is naturally eager to express gratitude, and strive to hire new teammates who share the same values, to say it happens without any action would be a lie. We believe that setting the example in small ways reciprocates the values, actions and emotions organically. Here are some things we do regularly to actively work toward this.
Thank You For...
Every Monday we celebrate the past week as we look forward to the week ahead with a quick, 20-minute 'Meet the Week' meeting. We share with our teammates a personal highlight, a professional highlight, and, if we have it, a lesson we learned or a risk we took and failed. Anchoring that list of personal accomplishments, we acknowledge something, big or small, a teammate or client did that made our life better.
While the pattern is simple, "acknowledge someone who did something great", it gives us a chance to show our appreciation on a more regular and consistent basis. It also makes us be present with our teammates; noting and remembering what they did that was impressive, helpful, or important. Whether it's a small gesture like picking up lunch for a busy teammate or as big as jumping in on a project and tackling an issue together, having the opportunity to personally and out loud thank a teammate just feels good. In turn, it feels good to be noticed and recognized in front of your team, and sometimes it can be just the thing you need to set you off on a good day (and week) ahead!
The Annual Speech
"I want to express how much we appreciate you and all that you've done over the past year. You have always been dependable, I never have to worry about where a task is with you. I especially appreciate that you provide candid feedback and honesty that allows me to be better at what I do. Thank you."
It's an annual tradition of ours to go out with the entire team to celebrate the past year over good food and drinks. While there's a general "speech" we also take time to talk about each person and their contributions to the team. We talk about their accomplishments over the past year, and in general, talk about how important they are to our team and to our clients.
While we hope everyone feels appreciated daily, this annual tradition allows us to reflect beyond the day-to-day and mark the importance that person plays in our lives and in our work.
Launching with Love
Just like most companies, we like to celebrate launches and the completion of big milestones. Launch days are more fun when there's a showing of support by the team, with announcements on Slack, a team prepared snack, and a wacky "Make it Happen" playlist (Look, we never said it was good songs.) blaring in the background. After launch, we encourage teammates to share their experiences in a show and tell, highlighting the project and their end result. If available, we encourage clients along to celebrate with us.
A focus on culture
Showing appreciation happens outside of actual work too - by getting together to have fun OR to give back to our community. In the past, we've organized outings and events like white water rafting and stand up paddle boarding. We've also volunteered at local nonprofits, like planting trees with Friends of Trees, to show our gratitude and love for our community.
For the last several months, we've organized a "culture club" to work and think outside the parameters of tickets and meetings, and think about ways we can connect and socialize with each other. From a Movie Club, to themed potlucks, cooking classes to curling (yeah, you read that right), spending a few hours every now and then to have fun reminds us all that we have a lot to be thankful for and appreciate. Plus, the break usually energizes us for the work ahead.
Why All the Fuss?
Why do we do this? Sure, there's loads of research[1] that shows that employees are more motivated at work by gratitude. But we also seek this type of culture because we honestly just care about our team and our clients. We want them to understand and know that they are appreciated and not only important to our collective success, but just important human beings. By being able to stop and say thank you, it fosters a genuine and authentic community of trust and respect, which makes working together that much better.
---
[1] Here's a few interesting articles I found on the topic in case you are curious: