Article
|
Leadership
Best Job Search Websites for Ruby on Rails Developer Jobs
Reading time: ~ 4 minutes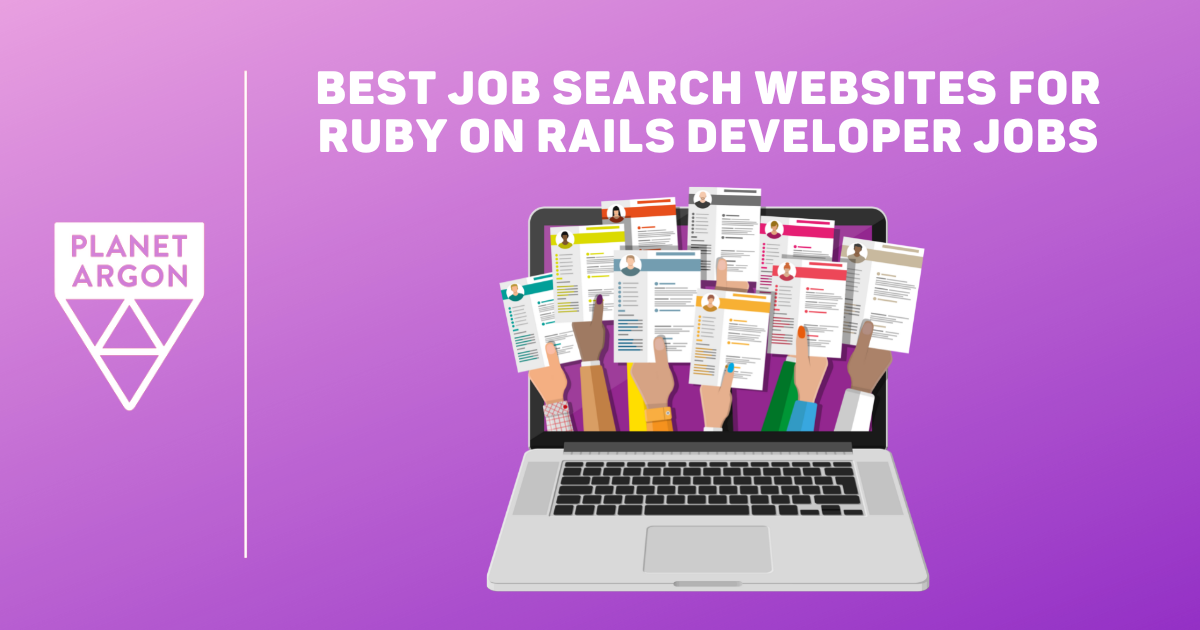 We've shared with you some information on how to write a job description, so once you've created an effective job ad, now what? You want to post your Ruby on Rails developer jobs where you'll find and connect with quality potential candidates. Fortunately, there are a lot of options, from job boards to local community sites. But before you share, consider your goals. Are you looking for parttime, fulltime, or contracto workers? Are you open to hiring remote workers or only within a specific location? Imagine where your potential hires are likely to hang out online, and use that as your launching point.
In this article, we'll share some of our favorite places to share job listings, including a few Ruby/Rails community-focused sites.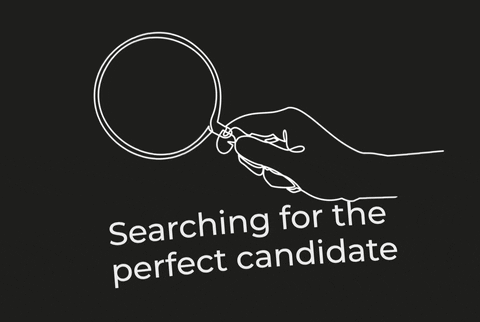 Ruby/Rails Boards
We'd recommend starting with the most focused groups you can. In our industry's case, that would be any Ruby- or Rails-related site. Here are some of our top picks.
Ruby Now is the original Ruby on Rails job board, with over 5,000 jobs posted since 2005. The founder has been a hands-on developer and builder of tech teams for the past 15 years, and he's known and trusted by industry leaders. The Ruby Now site also features a blog feed of Ruby and Ruby on Rails career advice and articles. It's not updated too often, but there are some gold nuggets in there!
Founded in 2010, Ruby Weekly is a newsletter that is sent out to over 41,000 Ruby developers. They send out useful links to developers on a weekly basis, and you can pay to advertise your job ad in an upcoming issue.
Go Rails is an online learning platform that helps developers learn how to deepen their knowledge of Ruby and Ruby on Rails fundamentals. As part of their growing community, they also feature a job board where you can post for free (and pay to feature it).
Other Popular Job Boards for Ruby on Rails Developer Jobs
Even if they aren't Ruby or Rails specific, these are excellent sites for finding top talent, and we've had success in recruiting some of our own Argonites from some of these sites below.
Cyber Coders has been in the recruiting business since 1999. They now have over 13,000 open positions on their site and 250 recruiters on their team, making them one of Forbes's Top 10 fastest-growing companies and the #2 largest staffing firm in North America. While their positions include various options (including technology, finance, engineering, sales, executive, marketing, accounting, scientific, legal, and operational), this is a great option for posting your job if you'd like to have recruiters screening qualified candidates on your behalf.
Founded by an engineer for engineers, EngineeringJobs.net is designed to connect employers with engineers in any field. The site is straightforward and easy to use, with real-time job posting capabilities and the ability to update and manage your postings anytime. You can also create an Employer profile and a mini-website that includes your logo and a video so that you can give a more personal introduction to potential candidates.
LinkedIn is a professional and social networking site designed specifically for the business community that allows you to tap into a network of over 770 million professionals in every field and industry. We enjoy using Linkedin even when we're not recruiting because there's an active Ruby on Rails community that shares interesting and relevant information about our industry as well as available Ruby on Rails developer jobs.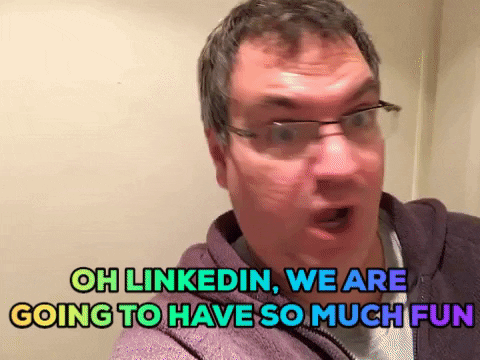 Toptal is a global network of quality candidates in business, design, and technology. They implement a rigorous screening process to identify experts in their respective fields. This is a great company to work with if you're looking for fully-vetted candidates with drive, passion, and expertise. Of the thousands of applications Toptal sees each month, typically, fewer than 3% are accepted, so you know you're receiving top-tier talent.
We Work Remotely is the largest remote work community in the world. In this new professional world where so many companies are choosing to hire and work remotely, this site is now booming with full-time, part-time, and contractor Ruby on Rails developer jobs. If you're hiring remotely, you can get your job listing in front of 2.5 million monthly visitors. Even better, We Work Remotely helps fill 90% of jobs posted on their site. The website also offers a huge catalog of recruiting and hiring advice and tons of resources for employers across all industries.
Other Ways to Post Ruby on Rails Developer Jobs
Besides major job board sites, there are other ways to get your job ad in front of high-quality talent. Consider working with people locally or in your network and check out some of these ideas.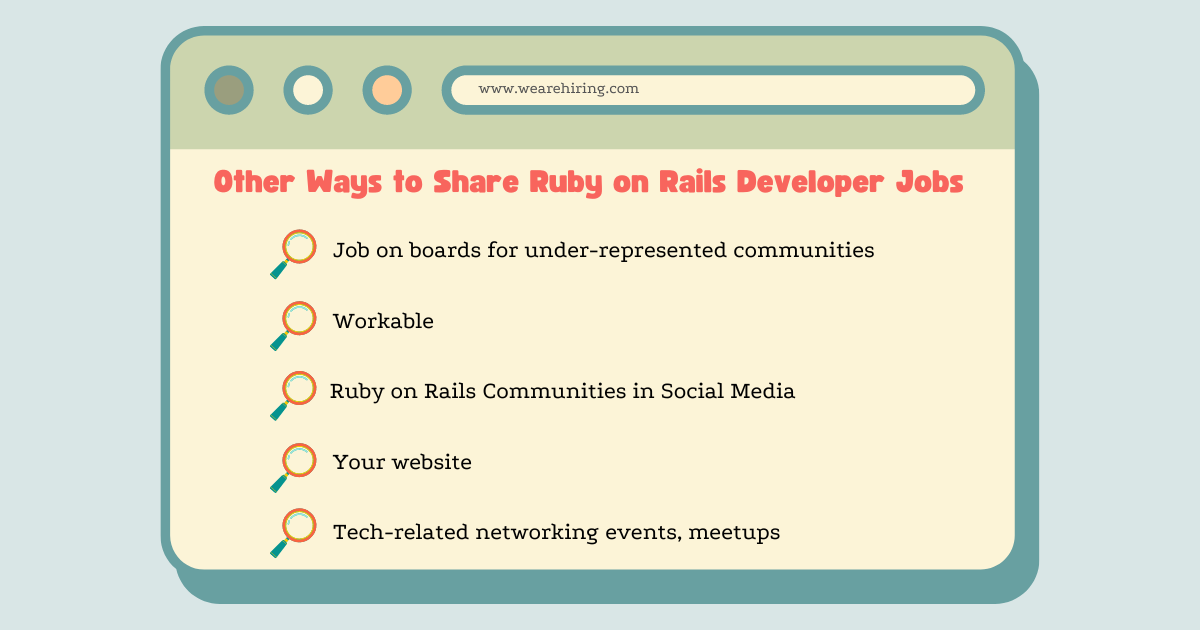 Job on boards for under-represented communities
We currently use Workable as a tool to manage our Ruby on Rails developer jobs and applicant tracking, but it's not really in the same category as some of the other job board sites. It's super helpful in automatically broadcasting our job ad to a number of sites, making the process easy, efficient, and effective. You can learn more in their blog post about which job boards you can post to.
Ruby on Rails Communities in Social Media
Social media is a great place to find talent. Your LinkedIn network is a great place to start. You can also follow Ruby on Rails community pages or subscribe to hashtags related to your job availability, so others can find you (#techishiring, #hiringtech, #rubyonrailsjobs, #hiringengineers, #wearehiring). Or use hashtags to find engineers #lookingforwork.
Your Website
Posting your Ruby on Rails developer jobs ads on your own website is a great way to attract talent for a couple of reasons. First, if you'd be sharing with your own audience, so they're already somewhat familiar with your business. Also, if someone finds your job ad, they'll likely read about your company and your About page and hopefully get a good idea of your company culture. This can feel like a more personal experience for a job seeker than just surfing job boards.
Tech-Related Networking Events, Meetups
Do you belong to any local Meetup or tech networking groups? Check out these events and talk to people face to face. You may meet engineers looking for work or open to new opportunities. Plus, connecting to peers and professionals in your local community is good for networking.
Hiring Ruby on Rails Developers?
Our new Recruiting Services help organizations that are struggling to vet, hire, and retain experienced Ruby on Rails engineers. Click the button below and learn more about how we can help!
<!--[if lte IE 8]>