Article
|
Development
10 Best Tech Podcasts in 2022 (as Chosen by the Rails Community)
Reading time: ~ 4 minutes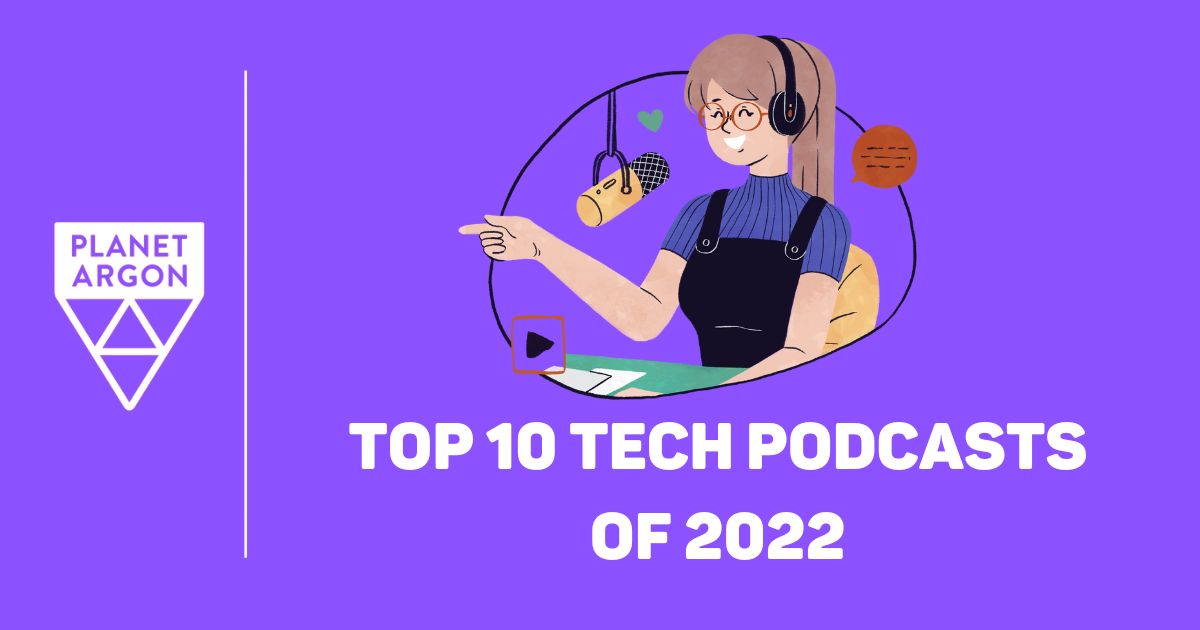 This year, 2,660 Rails developers from 102 countries participated in the Ruby on Rails Community Survey, an increase of ~23% from our previous survey in 2020. We've curated this list because listening to podcasts is such a great way to introduce us to topics we're interested in or want to learn more about. It also inspires us to learn new skills and keep up with trends in the tech world. If you're looking for new podcasts to help you sharpen your coding and development skills, then check out our updated 10 Best Tech Podcasts in 2022 (as Chosen by the Rails Community).
We asked quite a few questions in this survey, including information about our community's experience, what types of apps they've worked on, their types and levels of responsibilities, and their company's level of growth or decline in the last couple of years. We're happy to see that a lot of our fellow developers and engineers have continued to work remotely (#remoteculture) and that their teams have only grown in size and success. We're also thrilled to see that a healthy amount of greenfield apps continue to be built (and re-built!) with Rails.
One of our favorite questions from this survey (and the inspiration behind this post) was, "What are some of the best tech podcasts that you enjoy listening to?"
Here are the Top 10 chosen by the Ruby on Rails community as well as recommended episodes for you to check out!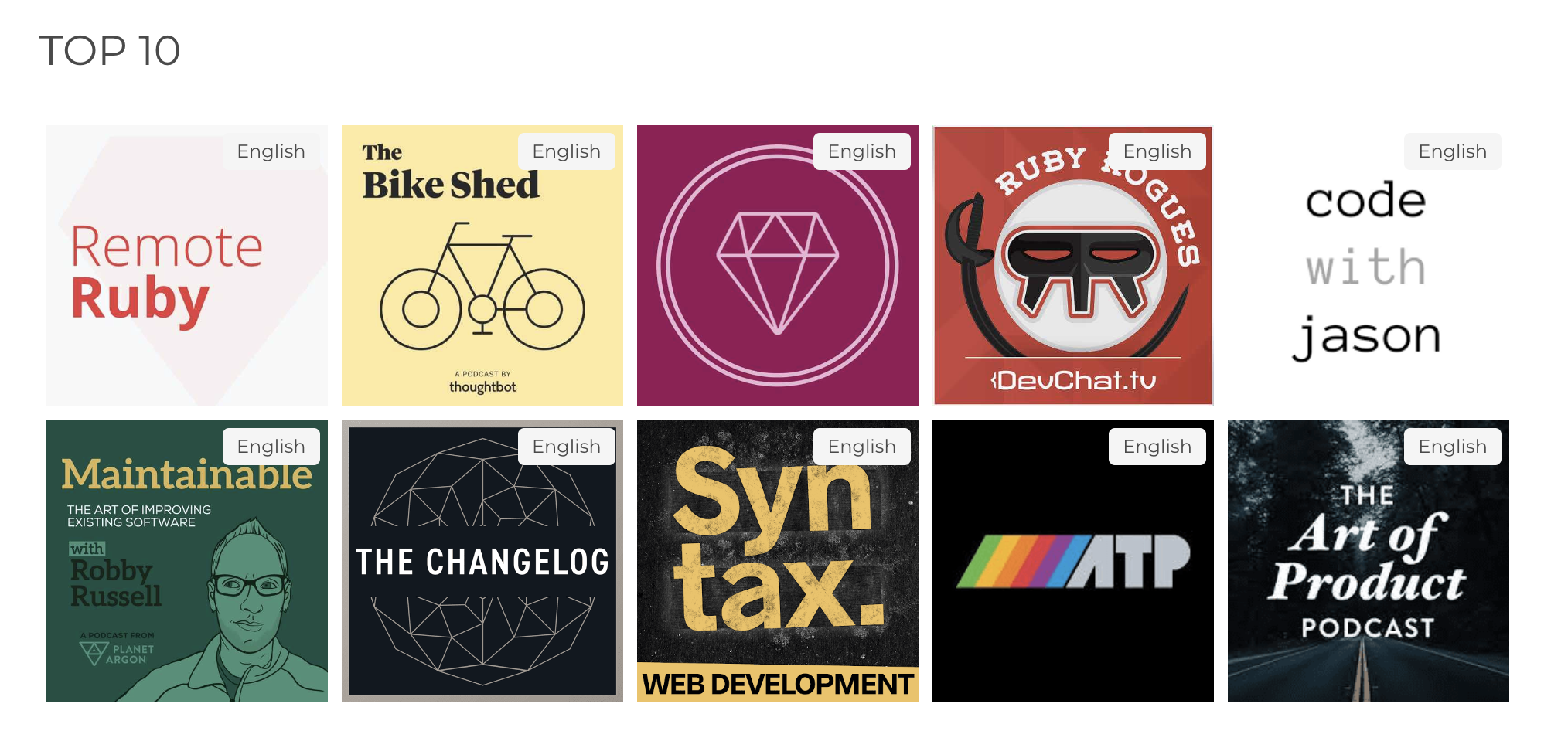 New to our list, this podcast is a weekly chat chronicling the journeys of two entrepreneurs building software companies. Hosted by Ben Orenstein and Derrick Reimer, it offers actionable tips and advice for anyone operating a SaaS or product company.
The honest and organic conversations between Ben and Derrick about their experiences in building a business motivate their listeners to cultivate a realistic mindset about building (or bootstrapping!) a business. This is a binge-worthy podcast, and we're excited that it made it to this list.
🎧 Recommended episode:
Another newcomer to this list (but not a newcomer to the community), this podcast is hosted by three self-proclaimed "tech nerds" discussing technology, Apple, programming, and loosely-related matters. Hosted by Marco Arment, Casey Liss, and John Siracusa, ATP focuses a lot on Apple software and hardware, and it feels more like a friendly chat turned podcast. We suppose that's where the name came from!
🎧 Recommended episode:
Best Tech Podcasts: #8 - Syntax
Moving up from #10 to #8 in our 2020 survey, Syntax digs into a wide array of software development-related topics. Hosted by Wes Bos and Scott Tolinski, this podcast offers conversations around the fundamentals of tech stacks and platforms, explaining how they work and sharing their own experiences. We also appreciate their deep-dive discussions on how to simplify web tooling.
🎧 Recommended episode
Potluck - Next vs. Gatsby × Headless CMS × Vue.js × Is Ruby on Rails still good? × More!
The Changelog, a series of discussions with innovators in the software development industry, remained #7 in this survey. Currently hosted by Adam Stacoviak and Jerod Santo, this podcast (amazingly) originated way back in 2009, way before podcasts were anywhere near as popular as they are today. They chat with guests ranging from startup creators to entrepreneurs to veterans at Fortune 500 companies about technical topics, dev culture, workplace challenges, and just about every topic relevant to a software developer's journey.
🎧 Recommended episode
Oh My Zsh with Robby Russell (hey, that's the creator of Planet Argon!)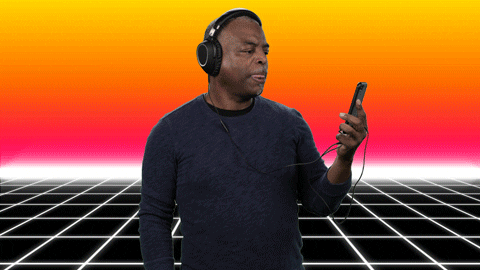 Best Tech Podcasts: #6 - Maintainable
Up 3 spots from #9 in 2020, The Maintainable Software Podcast is full of conversations on improving your software project's maintainability. This podcast might sound familiar because A) Planet Argon produces it, and B) our very own Robby Russell is the host! On Maintainable, Robby speaks with seasoned practitioners who've helped organizations overcome the challenges often associated with technical debt and legacy code. Many conversations focus on team processes, communication challenges, growing as technical leaders, and diving into new-to-you projects.
🎧 Recommended episode:
DHH: Celebrating Legacy Software as a Victory and the Story of How Humans Can't Estimate
Previously called "Rails with Jason," this podcast remained at #5 in our tech podcast survey. This is an interview-style format hosted by Jason Swett, in which he interviews some of the most interesting people in the tech industry about various Ruby on Rails and technical coding topics.
With entertaining rabbit holes and side tracks that come up during conversations, listeners find Jason's YOLO interviewing approach both meaningful and intriguing.
🎧 Recommended episode
Turning Around Legacy Projects with Robby Russell, CEO of Planet Argon
The Ruby Rogues probably has the largest number of episodes of any technology podcast. Topics covered vary between new features and functionality in Ruby/Rails, software development, and becoming better Ruby on Rails developers. With new episodes each week and such a huge library of episodes, there's always something new to dive into!
🎧 Recommended episode
Hiring Diversely with Sarah Mei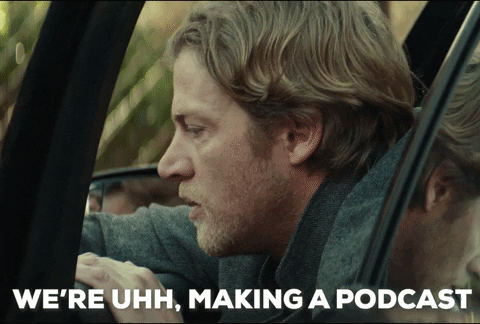 The Ruby on Rails Podcast is the longest-running in the community. You might notice their new look and logo, as well as a new website. Besides these changes from 2020, hosts Brittany Martin and Brian Mariani have been joined by co-hosts Jemma Issroff and Nick Schwaderer. This weekly podcast explores topics related to the Ruby on Rails framework, open-source software, the programming profession, and other interesting topics in the Ruby community.
🎧 Recommended episode
The Railsconf 2022 Ruby Podcast Panel
Last year's #1 tech podcast is still here on this list- The Bike Shed! Hosted by Chris Toomey and Steph Viccari, this weekly podcast discusses the challenges of being a software developer, refining your craft, exploring new technologies, real-life lessons they've learned, and news and upgrades in the Rails community.
🎧 Recommended episode
Best Tech Podcasts: #1 - Remote Ruby
...And this year's front-runner is Remote Ruby, hosted by Chris Oliver, Jason Charnes, and Andrew Mason. The hosts dig into many newer technical and community-related topics on this podcast, including web development, tech trends, and the Ruby programming language. We also really enjoy the episodes in which they share interview-style episodes.
🎧 Recommended episode
GitHub Codespaces & Docker with Benjamin Wood
That's a Wrap
What a great list of tech podcasts here! We want to thank all 2,660 Rails developers who shared your experiences in our community survey this year. And we especially want to thank all the hosts and producers who create free and valuable content for our community. This is how we all evolve and learn, and if you're like us, you've already loaded your streaming service with a ton of new material! Happy listening!