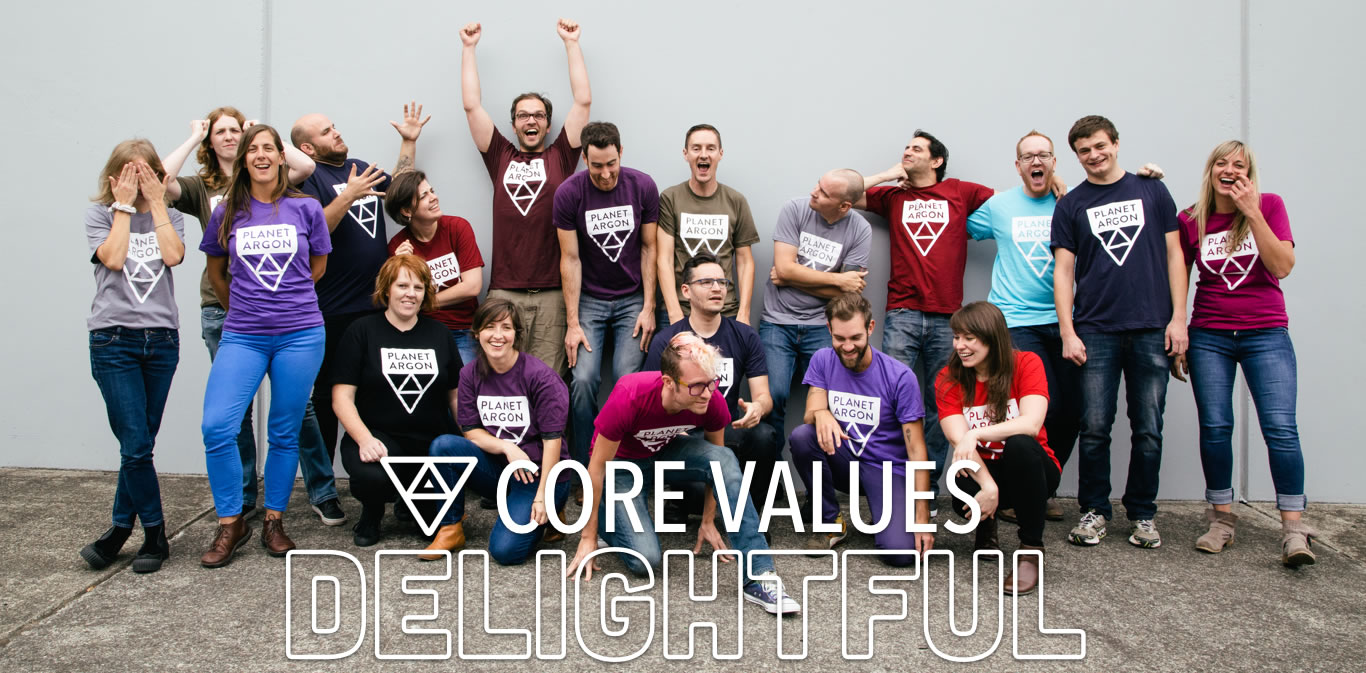 When looking at our 'core values' you will see words like dependable, versatile and collaborative, words you might expect to see on an organization's value list. Let's call these 'The Usual Suspects'. There is one word, in this list, that stands out from the others. This particular word is delightful.
Delightful can be defined as 'causing delight; charming'. Can a company be charming? Can we 'cause delight' with the work we do and the interactions we have with each other and with our clients? You bet we can. Let me explain.
We are the fun agency
One of our Google Adwords ads said something to that effect. It sounds like something you might say just to get noticed, right? Stand out from the 'Ruby on Rails Experts' chant from all the other ads on the page. Well, for us this is exactly the case. We ARE the fun agency. Not only are we a group of creative individuals, but we are all extremely fun to be around (no, really, we are). We make being delightful a point of pride and infuse it into all of our interactions with each other and with our clients. We do our jobs because we love what we do. When you love what you do, it is easy to be delightful while working on projects.
Going the extra mile
Being delightful can also mean doing a little more than what is originally expected. Taking that extra step in a project or covering something that the client didn't ask for, but needed to be done. It is always satisfying when a client asks if we are going to do X,Y or Z and we are able to respond with, 'Yes, that is already taken care of.' These instances go a long way to, not only delight our clients, but to build their trust.
The unexpected
Another way we bring delight is by doing things or adding features to projects that are unexpected. This could be something as simple as adding a little animation on the rollover of a logo or dressing up an error page to make it look less scary. Little things like this can go a long way for users of web applications and can even endear them to the application itself. How often have you discovered a little something extra with a website or app and it made you smile? We strive to give our clients and end-users that smile with every interaction.
Being delightful can mean so many different things and we strive to tick all those boxes for our clients and for each other. If you don't like who you work for or work with, your work will suffer. Let's all do our part to bring more delight to our professional and personal endeavors.