Article
|
Internship
Digital Marketing Internship Insights: My Summer at Planet Argon
Reading time: ~ 4 minutes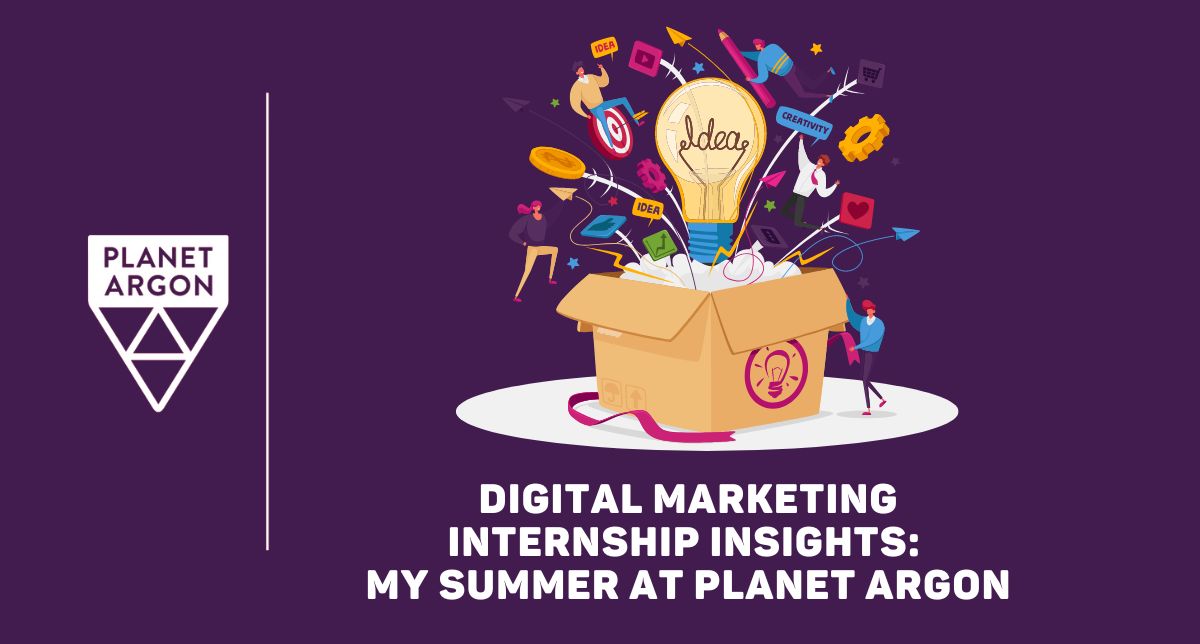 Hi, I'm Liz!
Growing up, my heart was set on becoming a novelist, and I even wrote three novels during high school. After graduation, I explored career paths involving my passion for writing and stumbled upon copywriting. As I practiced writing copy and delved into market research, I sought to understand how my work fits into broader marketing strategies. I met a start-up owner who hired me as her Marketing Manager, and she recommended me to two more businesses. Collaborating with these small businesses to boost their online presence and overall marketing approach revealed tangible results, inspiring me to pursue a more comprehensive marketing career beyond copywriting.
Before the Internship
Searching for a structured way to learn and receive feedback, Planet Argon's Digital Marketing Internship posting caught my eye. It emphasized education and real-world practice in highly valued digital marketing areas, so I applied immediately. Upon researching the company and its internship programs, I saw a genuine commitment to their interns' work and growth even after the internship concluded. Getting the offer was thrilling, and I gladly accepted the opportunity without any hesitation.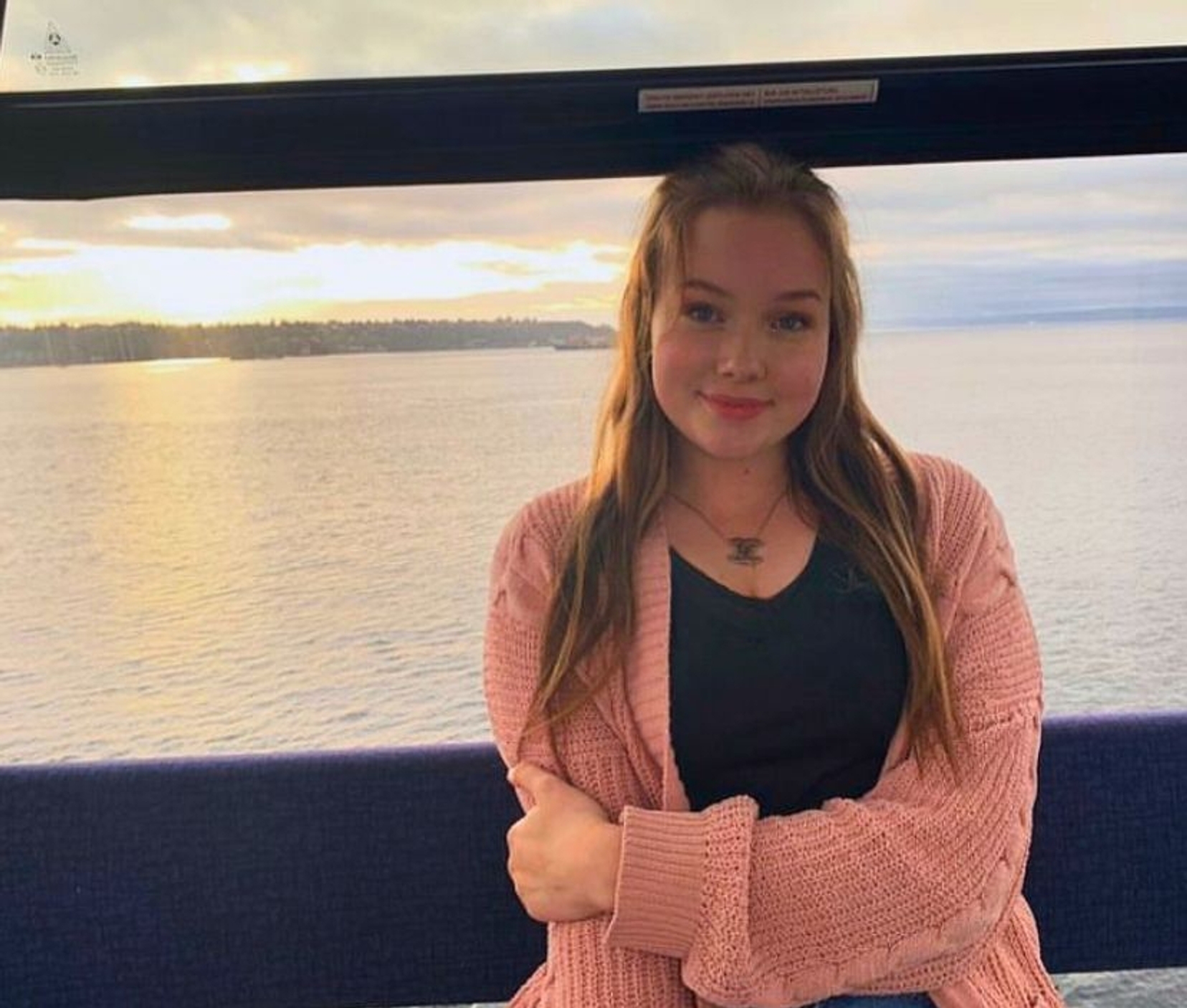 Onboarding
In the weeks before my first day, I was thrilled to receive invitations to accounts for marketing tools I had always wanted to work with but wasn't able to. I was particularly excited to sign up for these accounts:
HubSpot, a widely used CRM.
AHREFS, an SEO tool that provides valuable website performance insights.
Buffer, a platform for social media management.
On my first day, I felt a mix of excitement and nervousness, mainly because it was my first time working with a fully remote team. However, as soon as I logged onto Slack, the warm welcome from many team members calmed my nerves. Autumn, the Marketing Coordinator whom I would be working with during my internship, provided me with a Summer Internship Project in Asana to get familiar with Planet Argon and the tools I'd use during the internship.
I also had a calendar full of video meetings with various Planet Argon team members. Although I'm a bit shy and speaking in front of multiple people can be intimidating for me, my first video calls with Autumn, Robby, the CEO, and Gary, the COO, went very well. They made me feel at ease and were open to my input.
During my first Remote Friday Luncheon, Robby even organized a segment to ask me thoughtful questions, which helped the team get to know me better.
My First Week
In my first week at Planet Argon, I tackled a social media project that involved turning popular blog posts into eye-catching visual carousels to post on social platforms. This task not only sharpened my design skills but also helped me understand more about what Planet Argon does, especially the technical aspects. Although I was familiar with Canva and crafting social media content, utilizing Buffer for scheduling was new to me.
Another task involved setting up a LinkedIn profile for myself to share updates about my internship, something I'd meant to do but never got around to. I had the opportunity during this week to dive into insightful marketing blog posts that aligned with my learning journey. I also delved into tutorials for Ahrefs and HubSpot while navigating through Asana, Slack, and Confluence.
Adjusting to managing tasks and communications across multiple platforms was a shift from my freelance routine. Unlike freelancing, where I had everything streamlined, I now had to keep an eye on several platforms and consolidate tasks into a single to-do list while keeping everyone updated on my progress.
Later in the week, I participated in my first Marketing Team Meeting, an engaging space where Autumn, Robby, and I discussed marketing concepts and fresh ideas. This structured process gave me valuable insights, from topic suggestions to the meeting's flow.
The Next Few Weeks
Over the next few weeks at Planet Argon, I had the chance to dive into some interesting projects that expanded my marketing skills and insights. One task that I really enjoyed was putting together a media kit and looking into sponsors for the Maintainable Software Podcast. Figuring out where to place analytics and how to incorporate podcasts' branding into the materials was a satisfying puzzle. I also liked seeing how people responded to our social media posts and using that feedback to plan the next steps.
Working within an established process was a new experience that taught me a lot about consistent problem-solving and teamwork. The Marketing Team Meetings were a big part of that, giving me a space to ask questions and tackle challenges together. Marketing to a niche audience was a challenge, especially in tech, where I'm still learning. However, it taught me how to quickly understand a company and its audience finding effective ways to showcase its services.
Throughout this, I realized the importance of open communication, and what I enjoy working on is crucial for success.
Working with the Team
Working alongside the team has been a rewarding experience. During one project, I collaborated with the entire team; everyone was very welcoming and ready to assist. The project involved collaborating with the team to create a social media post celebrating Planet Argon's 21st birthday. To eliminate possible schedule conflicts for scheduling a Zoom call, I proposed having each team member decorate a letter to spell out "Happy Birthday!" Then, I combined the photos to create a fun image that looked like a Zoom call. Each team member has their own way of doing things, which creates a diverse and dynamic atmosphere.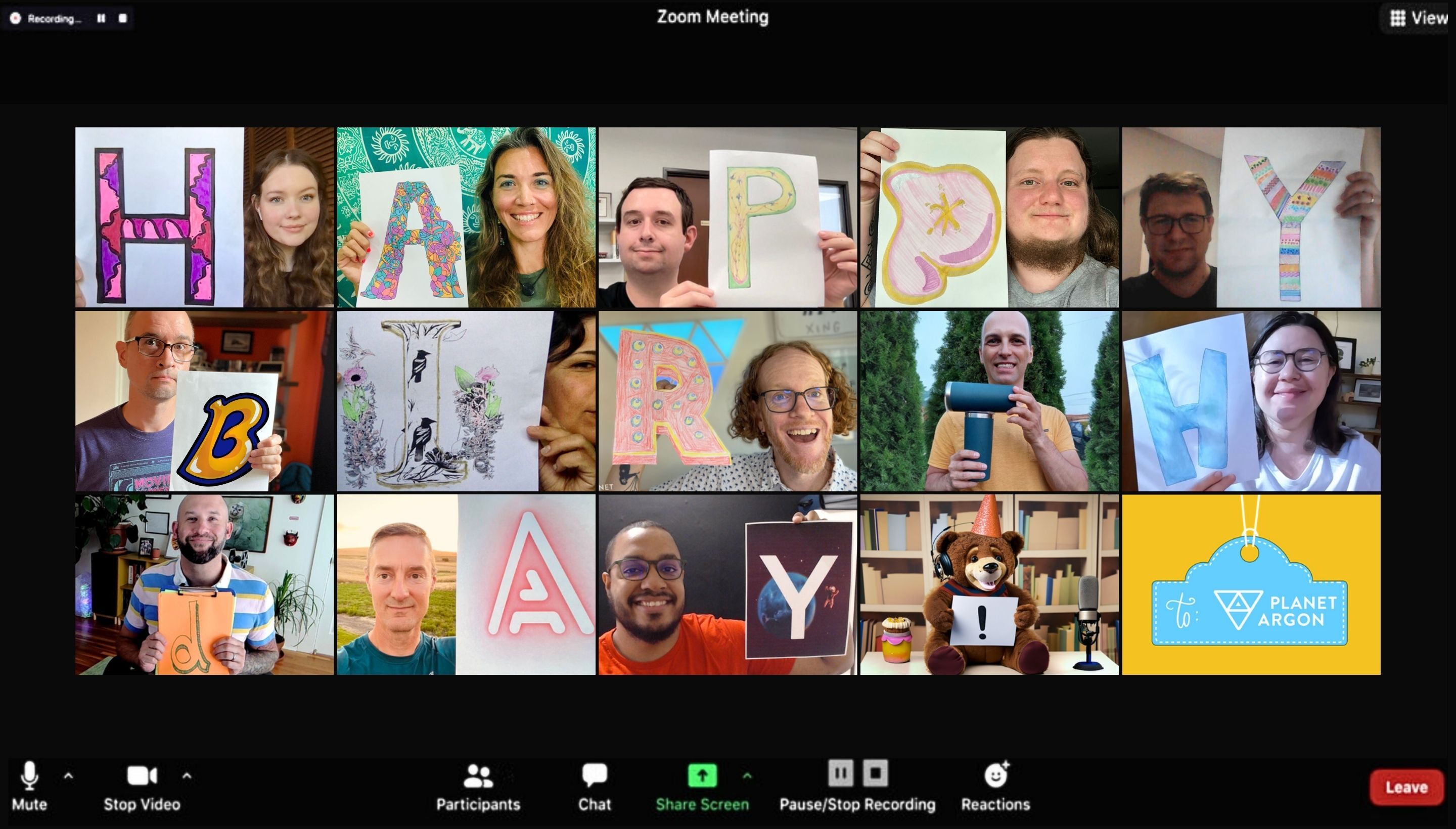 Another highlight has been our virtual Culture Club Zoom calls, where we gather to play games and chat about topics unrelated to work. Among these, the "Show Your Pets" Zoom call was my favorite. It was heartwarming to see everyone introduce their furry companions.
Our "Meet the Week" sessions have been key to connecting with the team. We use these sessions to share updates—alternating between Slack and video calls. It's a chance to discuss personal and professional highlights from the past week and set goals for the week ahead. These meetings also taught me the value of thanking each other for even the smallest contributions and taking pride in our work, which has helped me feel more connected to the remote team.
Going Forward
As these two months unfolded, I gained more knowledge than I initially expected. The chance to work on projects that play a more significant role within the company was something I didn't anticipate, and I'm grateful for that opportunity. Moving ahead, I'm planning to carry with me the lessons about effective communication and tracking progress. This experience has also shaped my perspective; I'm now looking for opportunities to help me build a career involving marketing strategy and planning.
While I'm excited about what lies ahead, I want to express my deep gratitude for the experience at Planet Argon. I will miss the team and the collaborative environment that made this journey so fulfilling.