Article
7 Healthcare Web Design Trends to Watch in 2017
Reading time: ~ 4 minutes
As we continue our focus on redesigning healthcare, we were curious to see what web design trends seemed to be gaining traction in the future in digital healthcare. Following are seven trends we're keeping an eye on.
1. Virtual & Augmented Reality
Within the same vein as telemedicine, virtual reality will be a frontrunner in transforming digital health into something people can experience, in an altered reality state. For patients, virtual reality has already been used as a mental health treatment and to treat acute pain management. Doctors can simulate a procedure, or as a student, you can learn more about the body in a way that gives you first-hand experiences. Any designer in this field would need a partner on brain triggers and psychology, but the benefits would be enormous. This is definitely an area to watch in the future.
2. Telemedicine
Telemedicine applications mirror some of the advantages of chatbots in healthcare. They allow us to get answers without the hassle of an appointment (or waiting for one), which can be especially important if you can't get to an office right away (or you are nowhere near an office). With access to video chat and messaging with doctors, the cost can be lowered, making it more convenient and accessible to most.
Applications like Doctor on Demand or Babylon focus on the core tasks at hand, connecting with a medical professional, and sending and receiving information to treat and prevent major health issues in patients.
3. AI & Chatbots
"Alexa, what's the dosage of my prescription?"
With the use of Artificial Intelligence, chatbots are already in use. Now, their application in healthcare seems like a no-brainer. Backed by real people and a library that can grow, chatbots, like Florence can be a personal, human-like guide that might guide users through symptoms, signal caregivers if there's a problem, or inform people about things like, which pill to take or how to eat healthier. While it may not replace actual medical care, being able to list out symptoms and have a computer make an appointment with your doctor on your behalf could save a lot of hassle.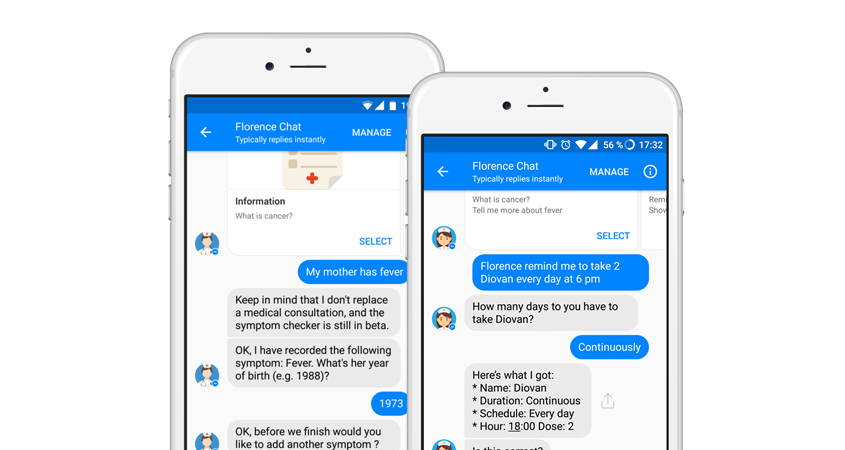 Here the design is simple - mirroring a "message" type pattern, and making the content "human-like". The logic, on the other hand, might be a bit more complicated.The reality is here, and no doubt the future has more to offer.
4. Wearables
Wearables are not new to the market, and these days there are devices for any part of your body, from head to toe. Along with the growth in types and styles, their functions seem to be growing and evolving.
The most popular "smartwatches" used to be centered around fitness tracking – like how many steps you walked or calories you burned. Now these wearables (and others) have entered the world of healthcare by monitoring things like blood sugar and vital signs. Devices that once informed fitness levels can monitor health and safety, serve as an early warning system, and help users or caregivers manage health.
Linked to the data visualization and also understanding user needs, the applications that complement these devices need to be accurate, informative, and understandable.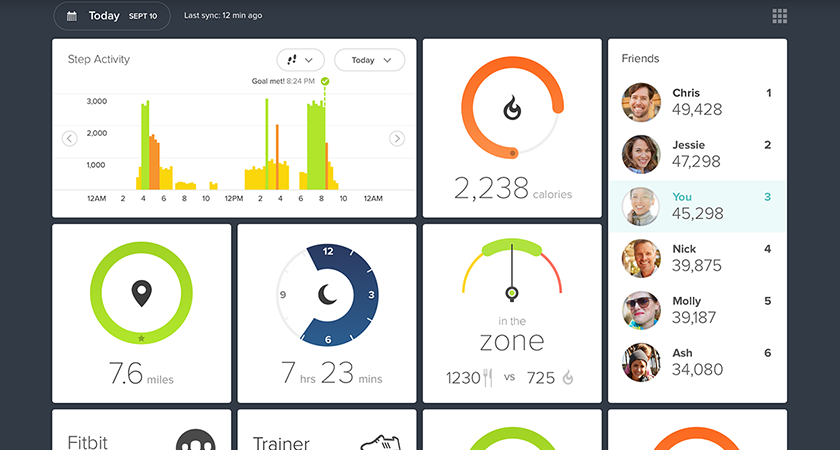 5. Visualizing Data
Sites like 23andme or Color remind me that health data doesn't have to be daunting. Big data can be amazing - if the data can be designed to help users understand it. But without some sort of data visualization strategy, it may go unnoticed or, worse, just be confusing. Thinking back to past lab results, data alone didn't always give me any answers or comfort. Fortunately, these sites (and more) get that, and their charts inform and educate their users and teach them something about their health that they can use and understand.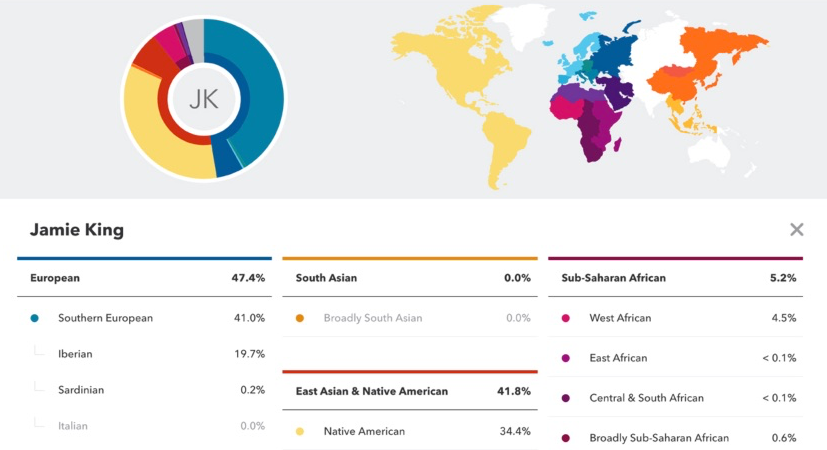 In the future, this trend will be important, as more "big data" is disseminated out to users to inform, educate, and guide. Whether it's your own personal lab results or extrapolating population health data, being able to highlight the information so that users can understand the data will be key.
6. More empathy and focus on the user
The most important trend to me as an interaction designer is the dedicated focus on the experience of the user. Based on the research we've done reviewing user interfaces in healthcare, it seems the more complicated (and maybe legacy) applications crossed off their list when it came to development requirements, but did so without input from the user and understanding how it might actually be used.
Maybe it's an effect of newcomers to the arena, but it seems applications are making a change for the better. Solutions have been designed like Amino, which searches through an almost complete database of doctors to find the right doctor for your condition, that takes YOUR insurance, and is in your area. This all happens within a comforting, human-focused application that reflects a design and process that not only understands the requirements, but also the user's needs, their experience, and even their state-of-mind.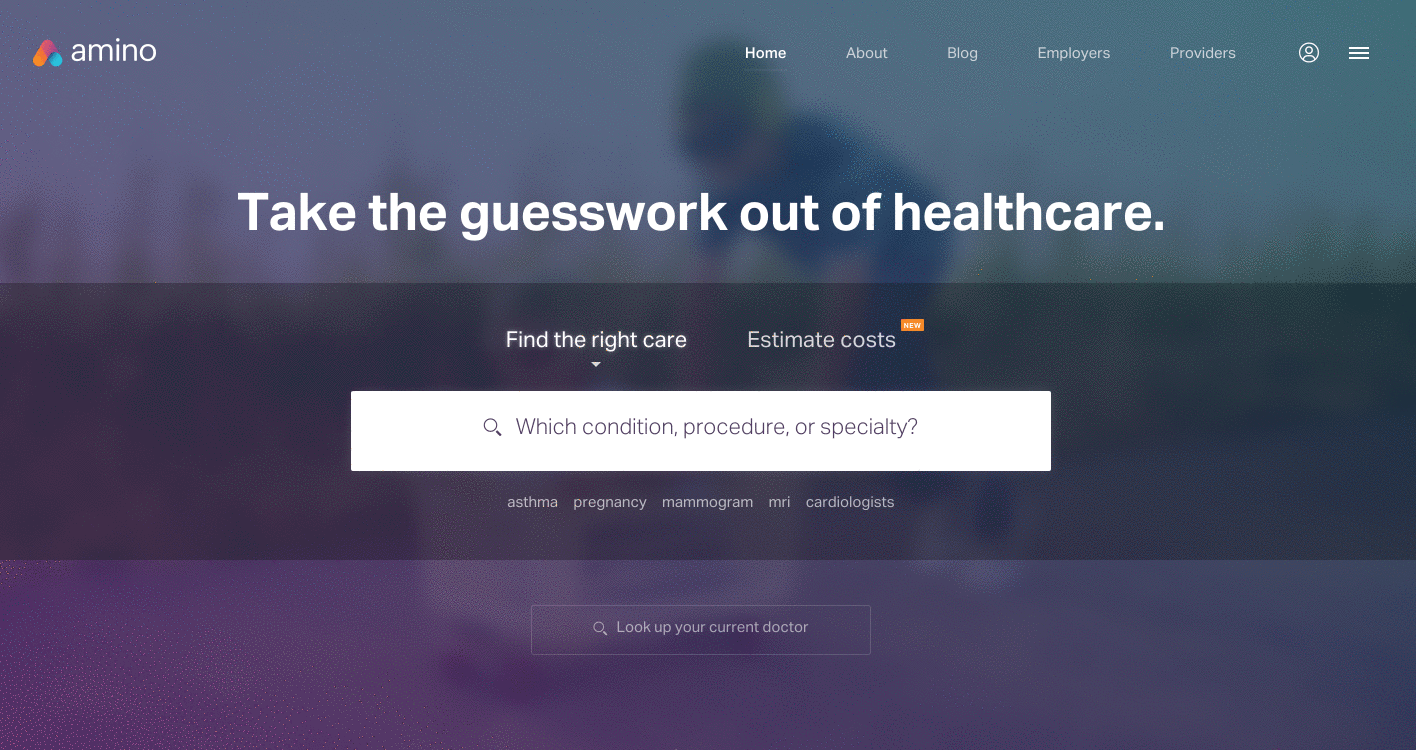 7. Mobile-first Approaches
More users are on their phones or other mobile devices – for some, it's the only form of internet. Web applications that do not take a mobile first approach could have major usability issues. And by postponing the inevitable move to mobile, they're only creating more issues for later on.
Some workflows and processes may not be optimized for mobile - that's a reality when we look at the workflows of today. But to not design or consider a mobile design (and the workarounds without it), and just assume it can't be done, would be a miss. The effectiveness and usability of an application might warrant a mobile first approach. Identifying the priority functions and determining the hierarchy of content and interaction (which a mobile design would force) could be beneficial for any application. These days, those that are able to be responsive will be rewarded in usage (and usability).
And much, much more...
This is by no means an exhaustive list but includes just a few areas that we've either worked on or are excited to learn more about as technology progresses. As we look at the various applications we use as patients or providers, there's certainly still work to be done.
The power lies in identifying real needs and uncovering new solutions with the tools we have (and will have), and understanding that it's more than just the data requirements. Beyond collecting more information about ourselves and others, new technology truly allows us to grow the effectiveness and reach of modern healthcare.