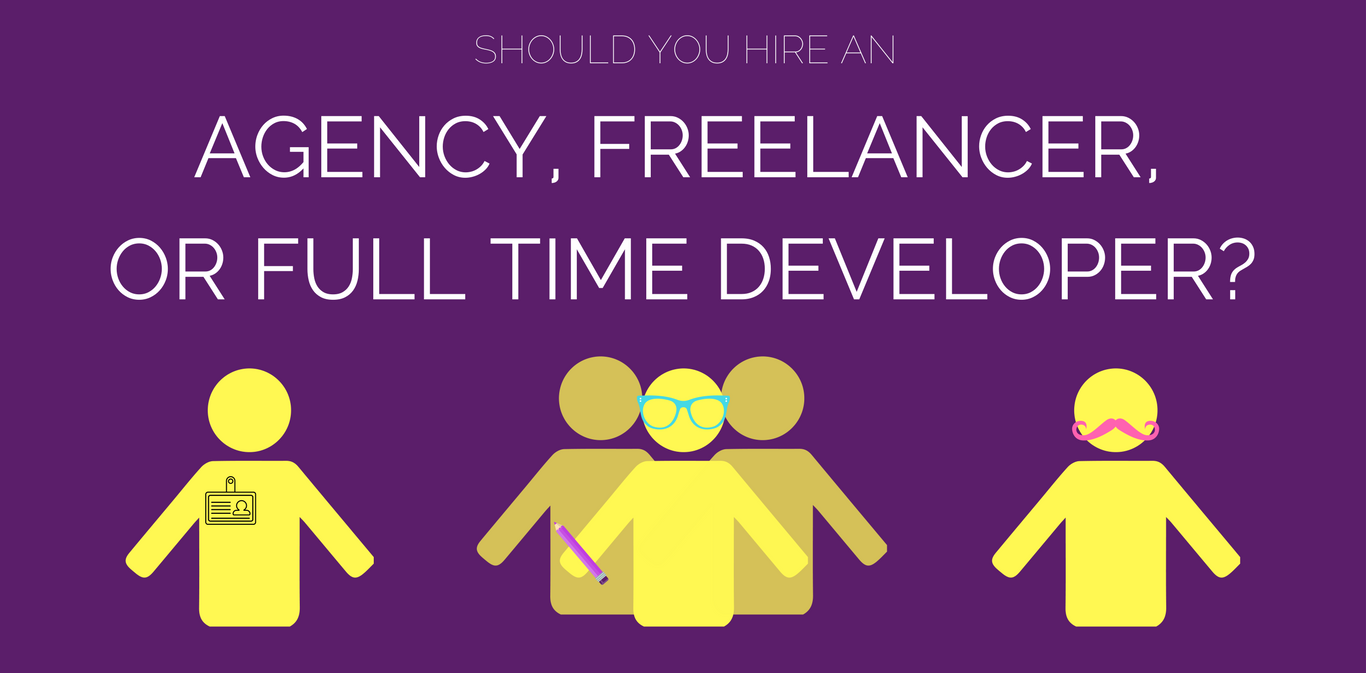 When you're ramping up development work or running short on developer hours for current issues, you have a few options to resolve your resourcing situation: You can hire a full-time developer, contract a freelancer, or partner with a development agency. Of course, there's pros and cons to each of these options. Before you leap into a decision on how to up your resources, there's a few considerations to take into account.
Here are some questions to ask yourself about upcoming projects, your company culture, and budget to decide whether to hire a freelance developer, full-time employee, or development agency.
Know Your Development Project
Being familiar with the scope and details of your project is key to choosing the right resources to get it done.
Is this a long-term project with ongoing maintenance, or will this likely end within a year?
This question seems obvious, but it's still worth giving some thought. If your resources are scant for a product launch or version update, it probably isn't worth investing on a full-time employee. Take a good look at your one to three year plans (or make some if you don't have them!) before pulling the trigger on hiring a new developer. If project work slims down in the near future, you'll have to make the tough decision to downsize.
Are the requirements for this project's development precisely outlined, or do you need more guidance and input?
It's simple to hand off a detailed list of project requirements to a development team or a freelancer and get specific features built. But if your specs are a bit murky, you need fresh eyes on your project, or you're looking for guidance from a technical expert's perspective, it may be worth investing in an agency partnership.
There's a reason why agencies will, at an average hourly basis, charge a higher rate than a freelancer or employee: They're able to provide multiple perspectives and guidance throughout the project, from concept to QA.
Know Your Company Culture
The communication and culture inside your company could dictate whether you bring on a new developer or partner with an outside developer or agency.
What is your communication style?
In the age of Slack, constant and open communication has become standard for many tech and development companies. But for others, in-person communication is preferred and online back and forth is last resort. Odds are, the freelancer you hire isn't going to work physically in your office space. If you've worked with remote employees or use online communication frequently, this won't be an issue. But if you'd rather chat in person, an outside team member might prove problematic.
Are you flexible with new tools and processes?
When you bring on a new full-time employee, you're able to shape the tools they use day to day, and how they communicate progress and problems with their team. When you partner with a freelancer or an agency, you're more likely to receive suggestions on how to communicate – maybe a project management tool like JIRA or Trello, and how often meetings should occur with updates. Your management and development team may need to be a little flexible during these changes.
Are your decision-makers open to new ideas?
An agency is likely to begin a project with a discovery or exploratory phase to unearth assumptions and new ideas. This can result in a shift from the original project plans – for the better – but can also result in scope, timeline, or feature changes. Generally, companies are either okay with this, or they aren't. You likely know your culture's leanings on situations like this, and if you tend to be a bit more rigid about your project plans, that's ok! It's better to know this up front and pair with a freelancer who will stick closely to the prescribed plans – this option will also likely be the most cost-effective for your situation.
Know Your Budget
All of your decision-making isn't up to preference. This is the real world, and budget can make a big impact on your choice. However, it isn't as easy as ranking which option is the cheapest. Full time employees may seem less expensive on an hourly basis compared to a freelancer or agency, but the on boarding, training, and associated expenses (insurance, 401k match, etc.) can add up to a comparable cost.
Rather, the question of budget becomes more involved with the length of your project. If you need a ton of work until launch, and then the app becomes mainly self-managing, a scaled-up development team may be twiddling their thumbs six months down the road. A freelancer juggling multiple projects may be flexible with small maintenance issues in the future, but low-cost clients may fall to the bottom of the priority list.
A development agency may be your best choice if you need flexibility between your short and long-term app changes. Many operate like we do: on a retainer basis depending on the scope of the project. This month, you may need two developers and a designer 20 hours a week, but in the future you may only need one developer for 10 hours a week. An agency will help you manage your costs while making sure the work is getting done.
At the end of the day, it's up to your technical team leaders to decide what type of additional resources best suit your project needs. A mix of personalities, budget, timelines, and communication styles all play into the best choice for your project. Regardless of which option you choose, it's important to thoroughly vet and interview the developers who will be working with you. Just as a resume and references are important for a new hire, portfolios and testimonials are integral to choosing a development agency or freelance developer, too.
---
Thinking of hiring a development agency to take over an existing application or build a new one? Finding the right one is tough – agencies all tend to look the same on the surface. If you're chatting with multiple agencies, keeping them straight can be a challenge. We put together a Google Sheets template that allows you to input each agency's info for comparison, and includes helpful questions to ask in your next conversation. Click below to download!