Article
|
Leadership
Planet Argon Named One of Inc.'s Best Workplaces in 2023
Reading time: Less than a minute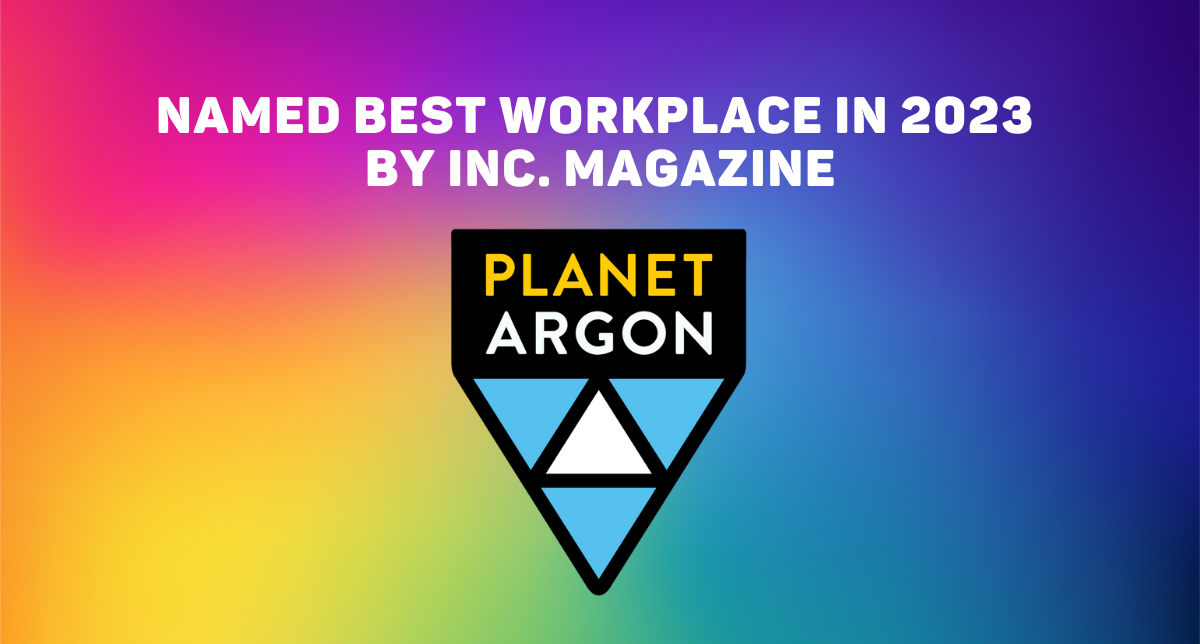 We're thrilled to share that Planet Argon has been named one of Inc. Magazine's Best Workplaces in 2023! We're featured alongside hundreds of other American companies that excel in creating exceptional workplaces and company culture - whether in person or virtually.
After sifting through thousands of submissions, Inc. selected a total of 591 honorees this year. Each nominated company underwent an extensive employee survey covering some of the following criteria:
Company culture
Employee satisfaction
Professional development opportunities
Compensation and benefits
Work-life balance
Diversity, Equity, and Inclusion (DEI)
Employee turnover
Customer satisfaction
Transparency and communication
We're among good company, too, joining the ranks of Asana, Grammarly, O'Reilly Media, and Sentry.
One of the reasons we're proud to have this recognition is that we transitioned from being an "in-office team" to a "full-remote international team" over the course of the last three years. This shows that even though we're working from different parts of the globe, we're still creating a collaborative environment and embodying our core values of being delightful, curious, proactive, versatile, and dependable.
Note From Robby Russell, CEO of Planet Argon
"This recognition is a testament to the exceptional work we do and the collaborative environment we've built together, embodying our core values of being delightful, curious, proactive, versatile, and dependable.
Each of our team members has played an essential role in creating an exceptional workplace culture where everyone feels valued, supported, and empowered. Their commitment to excellence, focus on innovation, and unwavering support for one another have made this achievement possible.
This recognition also reinforces our commitment to our goal of being better today than we were yesterday. As a team, we strive to improve continuously; this award is evidence that our efforts are making a real impact. This also mirrors all the positive feedback we continue to receive from our clients."
What's next for us?
As we look ahead, we're committed to continuing to foster a collaborative and supportive environment that empowers each team member to do their best work. With our team's happiness and well-being at the forefront, we're excited to see what the future holds for Planet Argon!