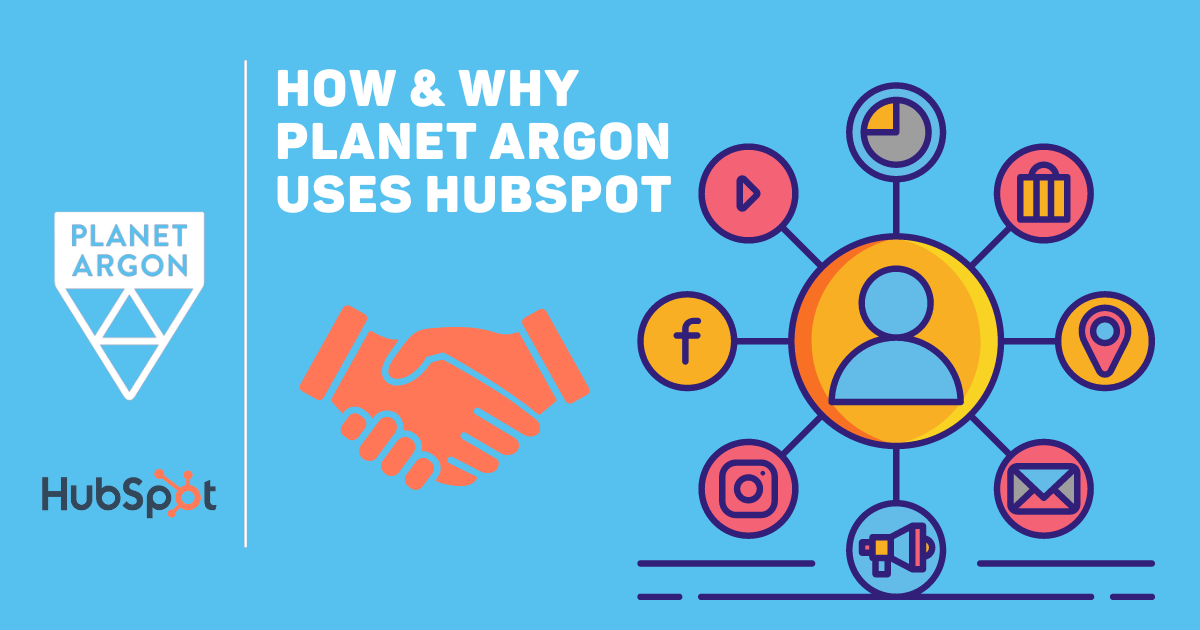 Of all the tools and CRMs out there, why Hubspot?
I recently gave a presentation on How and Why Planet Argon uses Hubspot during one of our Remote Team Luncheons (a great way to keep remote teams connected, by the way). We're optimizing some of our marketing workflows and landing pages, so we wanted to share our processes with the team. Plus, when we all understand the "why behind the what," everything else makes more sense.
Hubspot's goal is to help businesses grow. They do that by offering powerful tools that help businesses like us connect with our audience and use that connection to propel our business.
What is Hubspot?
Hubspot is a CRM (Customer Relationship Management) platform comprised of various "Hubs" with all the software, integrations, and resources needed to connect marketing, sales, content management, and client service. You can use as few or as many as you'd like. The beauty of them is that they can all be connected, analytics are in the same place, and reports can be customized to give you the information that's most valuable to your organization.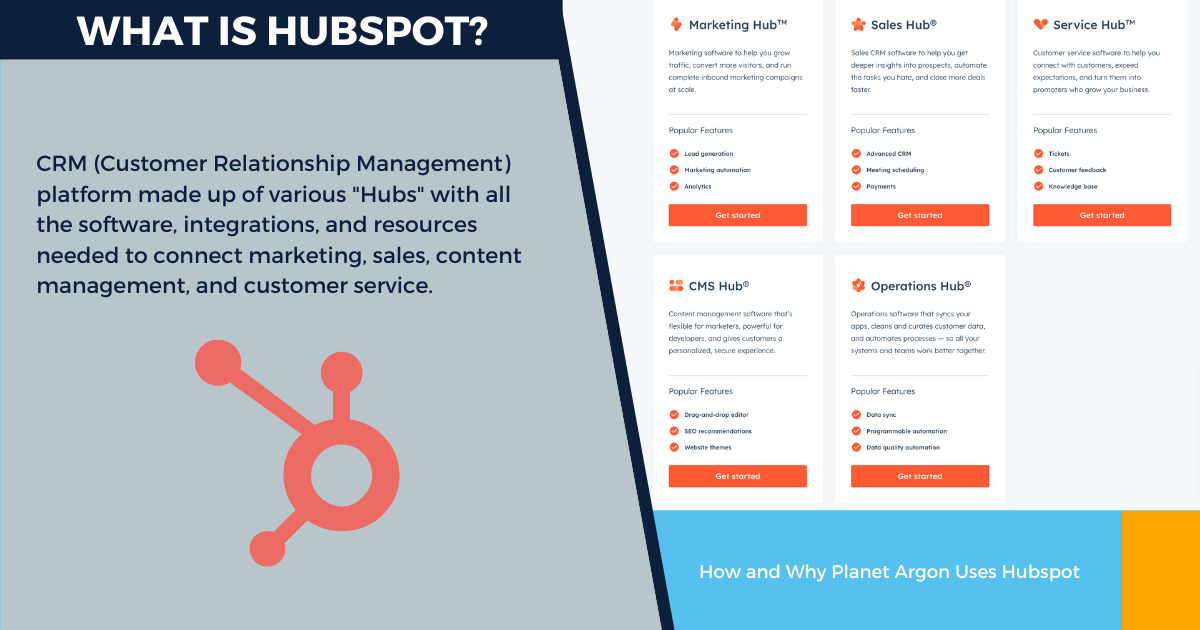 The Flywheel Model
Hubspot follows the Flywheel Model, which describes the momentum a business gains when each part of an organization is aligned to deliver an excellent client experience- from way before any contract is signed.
It's different from a traditional marketing funnel, which basically ends once a prospect becomes a client. After the transaction, you perform the service, and that's it. Now, you have to start back at the top of the funnel and market to a new audience all over again to try to get new clients. You could also sell the same client a new product/service, but Flywheel offers a different approach.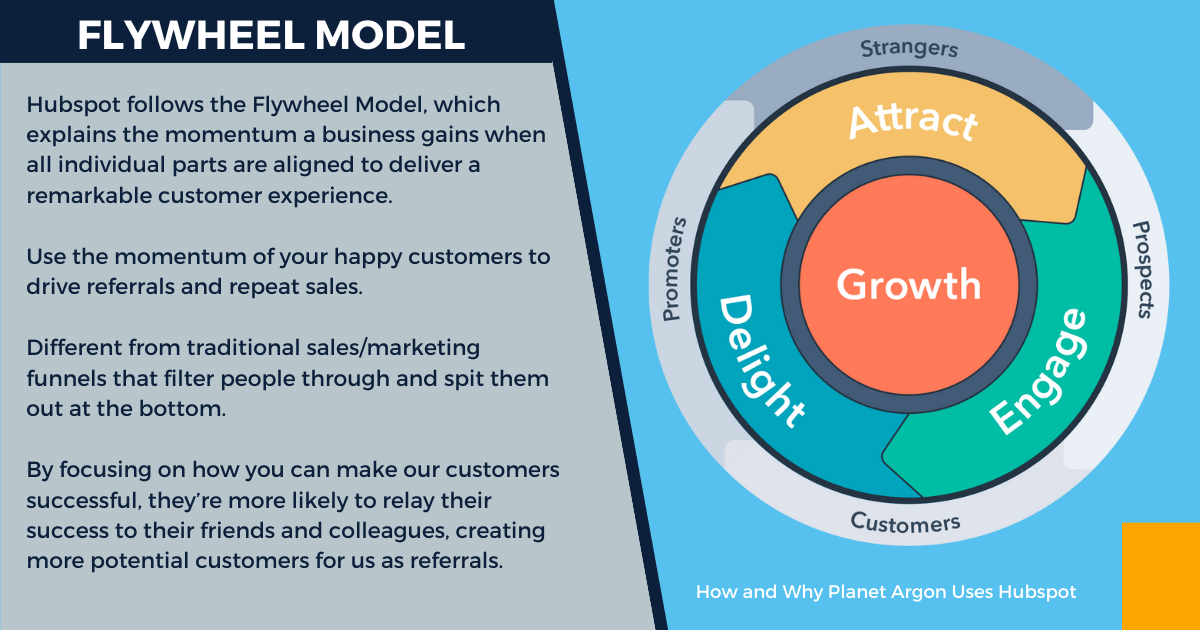 Flywheel uses current happy clients as the momentum to gain new clients. Not in an unpleasant way that makes anyone feel "used," but in a smart way. "Attract" visitors to your site by offering compelling content that offers value/solves problems for free (blog, social media, newsletters). Then "engage" with a prospect by answering their comments or email responses. Deliver remarkable service to a person from the very first touch point, and then deliver that same excellent service all the way through the proposal stage, the service stage, and the completion stage. Now, you've just made a delighted client. They'll be so happy they won't be able to stop themselves from sharing their experiences with their peers and colleagues. They become "promoters" or "referrers" for your organization.
Funnels lose the energy you put into them once you reach the bottom, but flywheels are remarkable at storing and releasing energy. -Jon Dick
The Flywheel model is gaining in popularity because of its cohesiveness. Plus, if you think about it, a wheel will give you more momentum than a funnel (especially if there's a leak in there!).
What's the Problem?
Let's assume a visitor comes to our website and already knows what they're looking for, which is true for our business in most cases. What happens if they stare at a page and don't see any contact info, calls to action, services we offer, educational material, direction, or something of value that they can take away from their visit? These days, we've got about 3 seconds to capture someone's attention and get them to take action. If we don't, they leave.
The problem is that visitors begin to feel confused or frustrated if they can't find what they're looking for. They feel like it's a waste of their time, and they're too busy for that! So they'll close their browser or click on another page.
We all do the same thing- scan a page to look for what we need. If we find it, we'll take action. If not, we'll go somewhere else.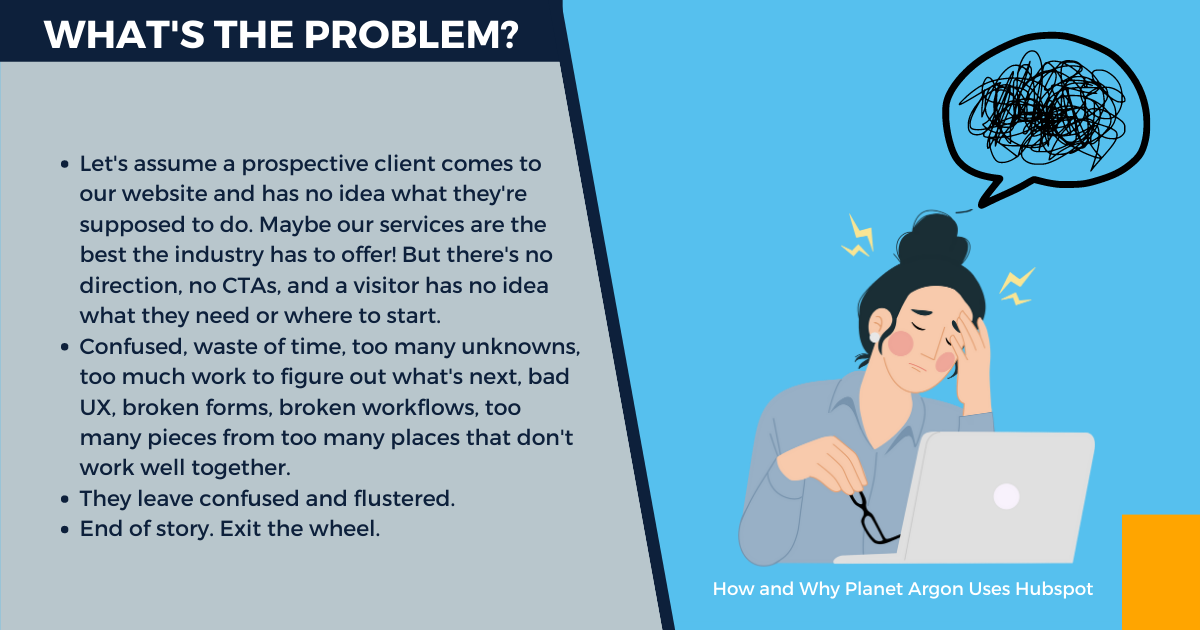 We can offer the best product in our industry. Our website can even provide compelling content. But that doesn't necessarily lead to a delightful user experience. Hubspot offers tools that allow us to create that experience. There are a lot of pieces to this puzzle, and in today's market, we have to get them all right (or at least pretty darn close)!
So what do we do?! Remember What People Want.
How a Visitor Becomes a Prospect
On a general note, chances are if someone visits your website, they already have an idea of what service or product they're looking for. In our case, we know a visitor is looking for help with their Ruby on Rails applications. But behind that, what are they looking for? What service do they need? How do they get in touch with us to learn more about that?
Believe it or not, the first step in getting a client is NOT to turn them into clients! No one wants to be marketed to. Instead, people want to be understood and to make a connection. They want to know if we truly understand their needs and if we can communicate and help them effectively. There's a human element to this, even with automated tools. So if we back up a little bit and consider how our marketing campaigns, workflows, and content strategies are set up, are we giving people what they really want? Ask yourself, "What do I want when I visit a website?"
We want something of value- helpful information or a solution- and for the experience to be helpful and delightful.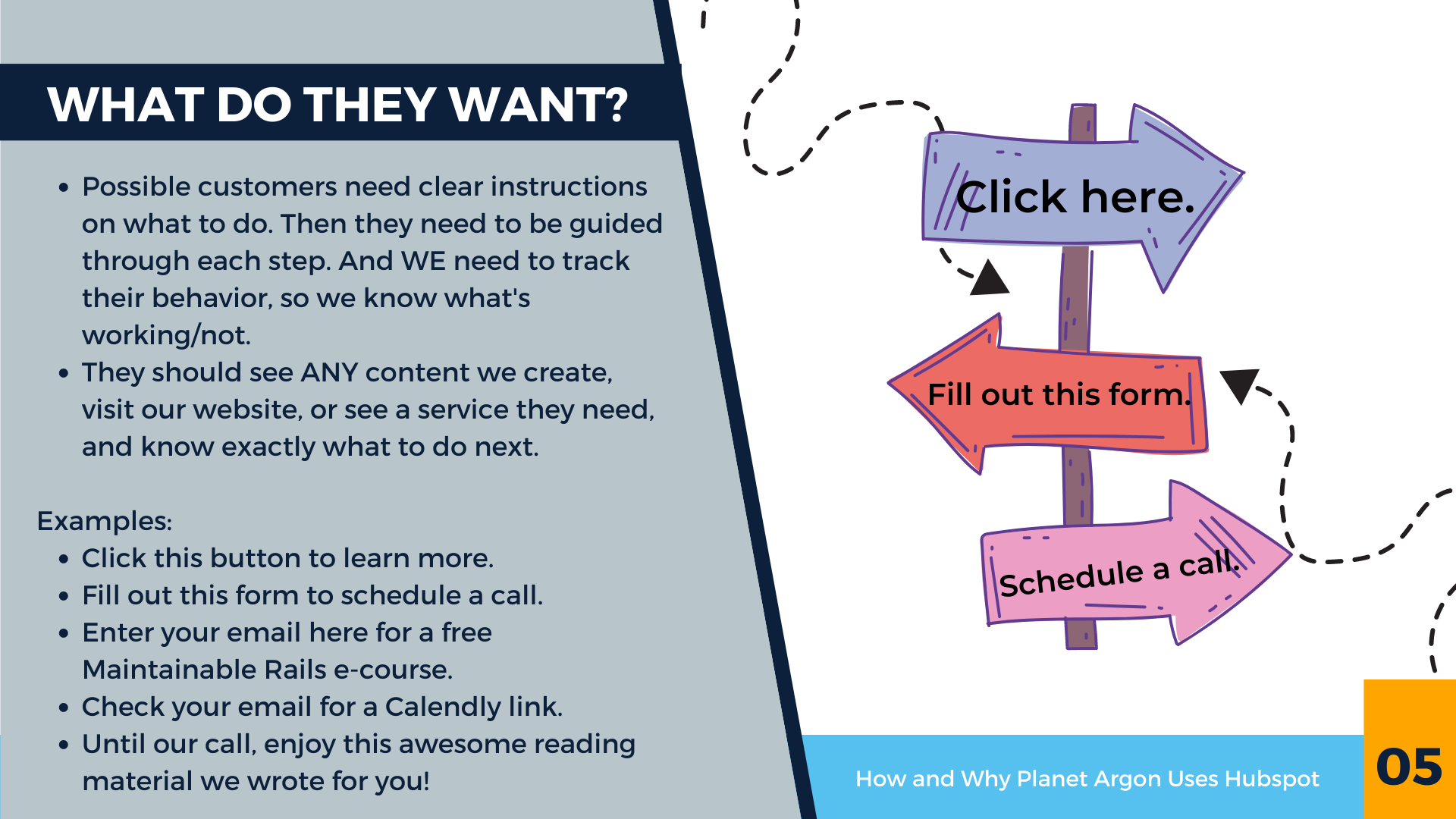 Here's what ALL OF US are looking for.
Value
Consistency in communication
Clear calls to action, how to get in touch, or next steps
Concise workflows
No guesswork
Knowledge and expertise
A visitor will trust that an organized communications flow is a good indication of an organized business!
How a Prospect Becomes a Client
If we've gotten someone's attention, we want to engage with them without pushing them into a sale. After all, you don't say hi to someone and then ask them to marry you, right? Similarly, we're at the beginning of a potential relationship, so we want to take the time to get to know each other. Engage in conversation. See if there's an opportunity for mutual connection and growth.
At Planet Argon, we ask prospective clients to fill out a Hubspot form, so we have some basic information about their needs, and then we invite them to schedule a call with us. Once they schedule their call, we use Hubspot's workflow tool to send a thank you email and a follow-up email with free supplemental reading material so they can get to know us better. We keep our communication valuable, informative, concise, and helpful, and we manage expectations by letting them know the next steps- no guesswork here! Of course, we do all of this with Hubspot's tools- landing pages, calls to action, forms, emails, and workflows.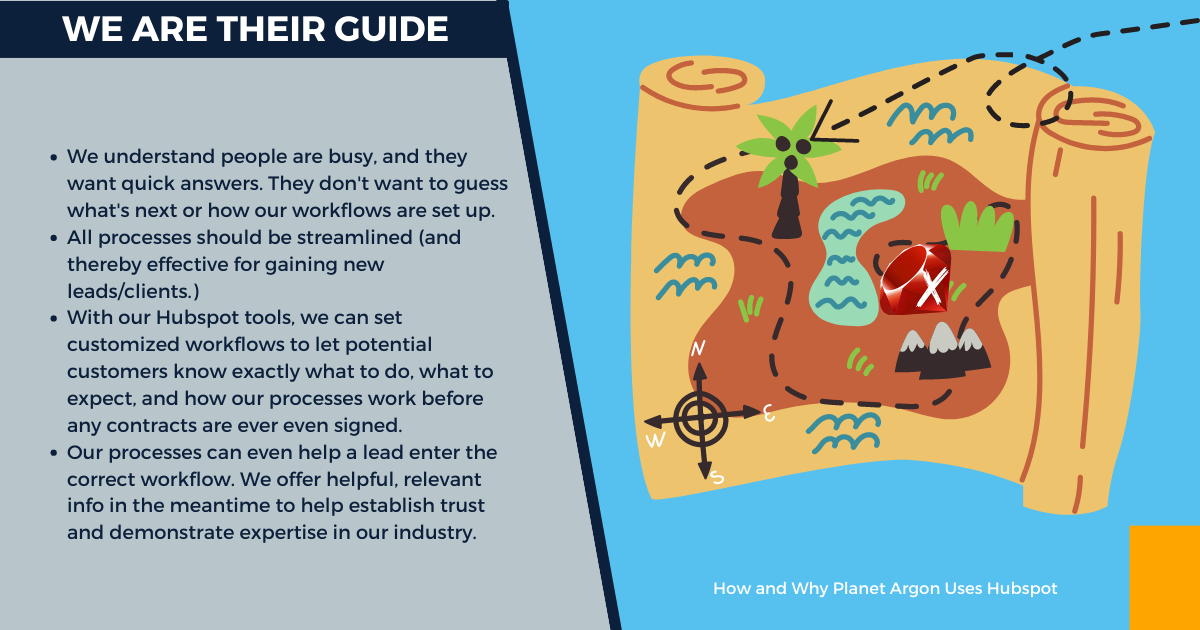 Signing a new client is a fairly lengthy process for us because we go through a diagnostics phase and a code audit, so several meetings and conversations happen before contracts are signed. This is beneficial because we get to know each other before we're in an official business relationship. A long courtship, if you will. We build our relationships on mutual trust, communication, and honesty. This is how a prospect becomes a client.
How a Client Becomes a Promoter
One of the most beautiful parts of the Flywheel Model is that delighted clients can become promoters who refer your services to their friends and colleagues. This is different from the traditional marketing funnel that ends with a client's one-time purchase. That is, unless you try to sell additional services to that client, they enter the funnel again from the top. But that's not the best way. So instead, let your service draw your clients in and propel your growth.
You can also offer a referral or loyalty program and give them additional incentives to spread the word.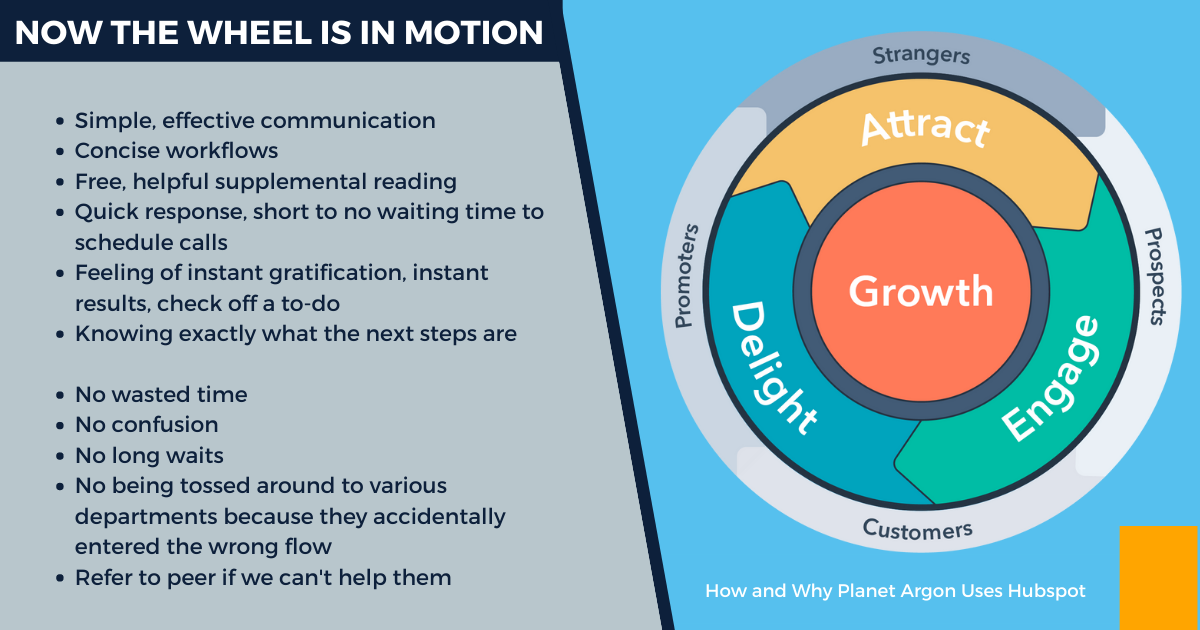 To Sum It Up...
We're always learning more about Hubspot's tools and features, and we enjoy discovering new ways we can integrate their services. With effective communication and workflows, we continue to improve our processes and connect with our clients. For us, this is the most important aspect of marketing, so thanks, Hubspot!