Article
|
Development
HIPAA Compliant Websites: 3 Things to Consider
Reading time: ~ 2 minutes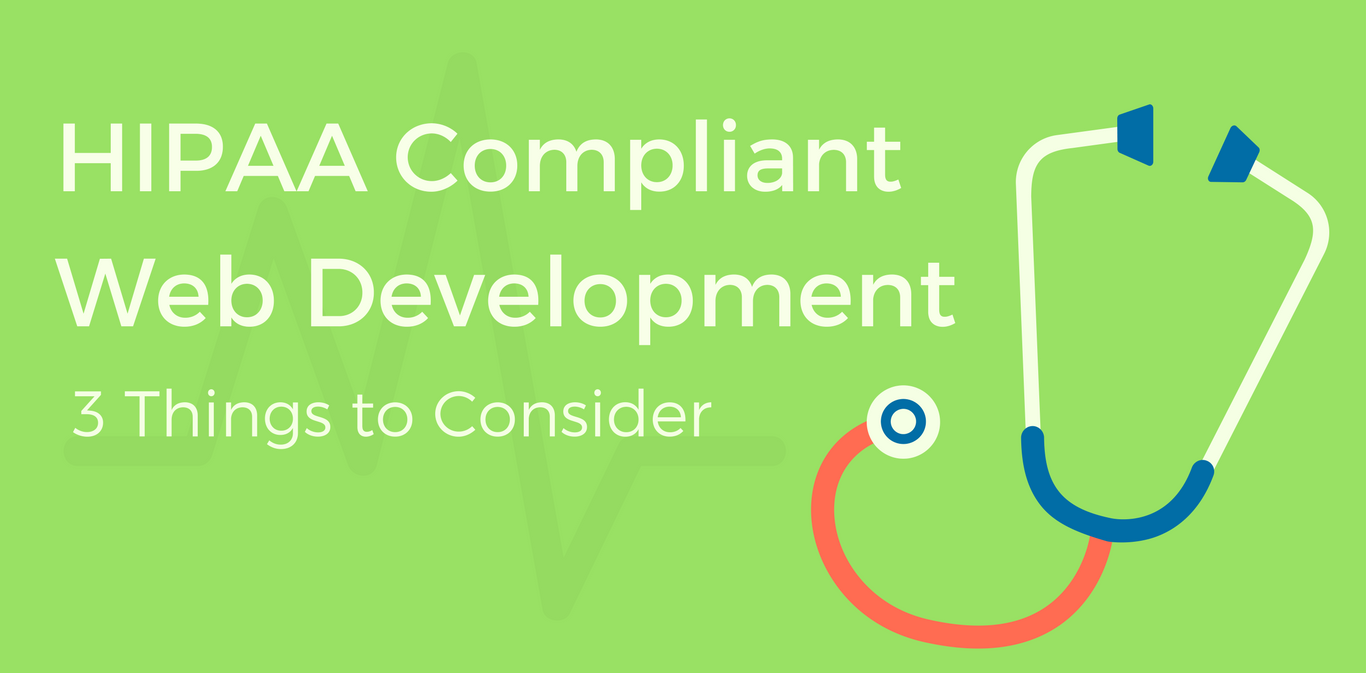 The healthcare industry, like every other business, is shifting toward more online interactions. These changes mean simpler transactions for customers, shorter wait times in doctor's offices and pharmacies, and an easier flow of communication between patients and care providers. But with more private information being passed online, it's more important than ever to ensure your healthcare website is HIPAA compliant.
If you work in the healthcare industry, you're definitely familiar with the ins and outs of HIPAA laws. But if you aren't a web developer, you might not know the technical details of how these laws relate to your website security. Whether you're a healthcare startup or a major provider, patient protection rules apply to everyone. From your server setup, to data collection and disposal, HIPAA provides guidelines for security every step of the way.
We have experience working with businesses in the healthcare industry on web applications and sites, so we're familiar with what's required and how to achieve these strict requirements. While there are dozens of boxes to check in a full-scale healthcare development project, here are three high-level things to consider when building a HIPAA compliant website.
1. Server security
Some key decisions for the HIPAA compliance of your healthcare website happen well before you choose the type of buttons and scroll on your homepage. Security starts at the server level, with minimum security requirements including a virtual or dedicated firewall, backup protection, antivirus, and patch management. You want whatever server provider you choose to be familiar and compliant with HIPAA regulations in the event of an outage or audit.
2. Administrative and patient access
A big portion of HIPAA guidelines relate to keeping information available to the right people – and keeping it away from anyone who doesn't need to see it. An online application in the healthcare space will need strict rules for authorization that dictate who can access what data. Beyond authorization levels, employees and patients may need a more complex password level, or to update their password on a regular interval. In the event of a government security audit, these types of considerations will be inspected.
Nearly every application we manage in and out of the healthcare space has authorization tiers built right in. In Rails, these administrative privileges can be efficiently handled through authorization Gems (we like Pundit), and of course, can be adjusted at any time to reflect changes to employees or HIPAA guidelines.
3. Constant improvement and iterations
Web development is rarely set and forget, and that's especially true in the healthcare space. As you've likely experienced before, complying with ever-changing HIPAA standards is a constant effort. Kaiser Permanente compared the process to changing a tire on a moving car. You should expect a long-term relationship with whatever employee, agency, or freelancer you collaborate with to build your application or website – turnover will slow down the build process due to the learning curve of getting familiar with HIPAA.
When dealing with compliant sites in the healthcare space, it's important to work with a web developer who understands the levels of security necessary for your patients and your business. If you're looking for someone to help maintain or improve an existing healthcare application, click the button below to get in touch. We'd love to talk with you about your challenges and goals.
---
Developing a HIPAA compliant website or app?
We put together a guide to help you detangle what rules you need to follow for server security, data encryption, and more. Download our free eBook: The Complete Guide to Secure Healthcare Websites below!