Article
|
Internship
Go the Distance: Navigating My Remote Internship
Reading time: ~ 4 minutes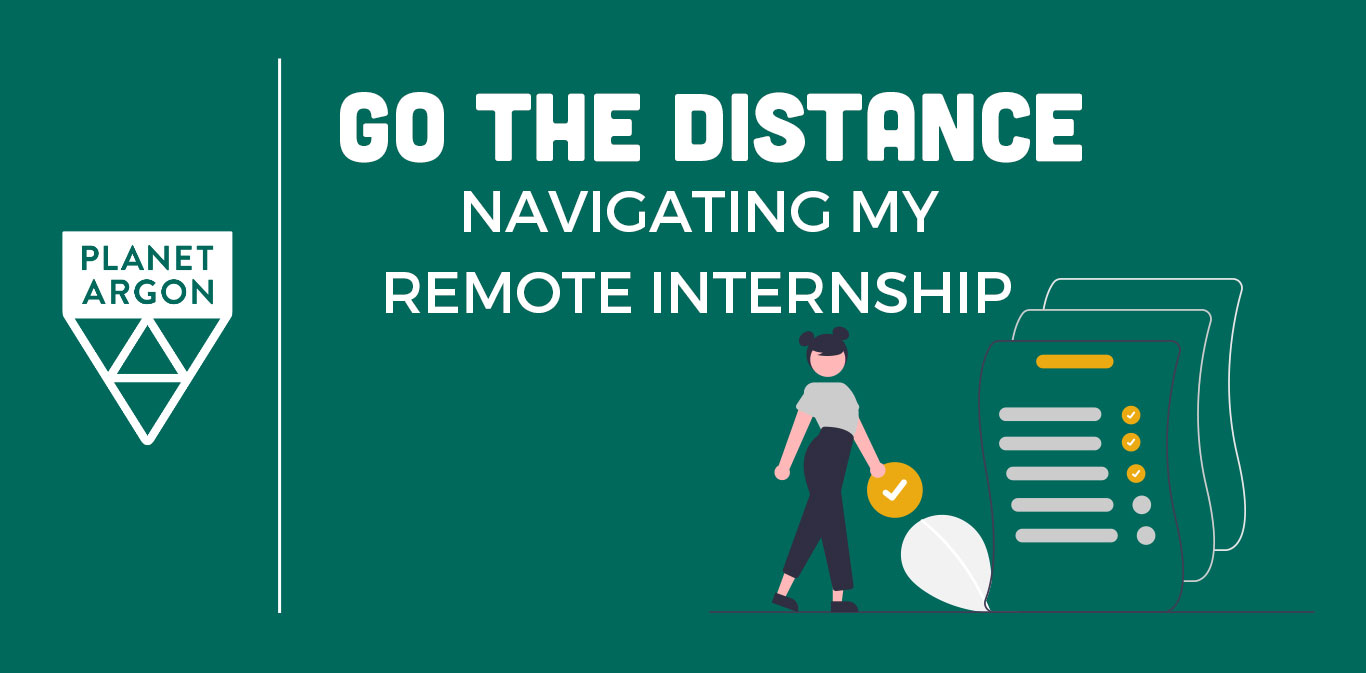 Unprecedented times can lead to unprecedented opportunities, in this case, a remote internship at Planet Argon. During these two months that I've worked as a digital marketing intern, I had to adjust to not only working full-time in a real-world business setting but also to work with a team who is working remotely in a different time zone, me being in EST and the company operating in PST. Here are some of the tips and tricks I used to make the most of the experience!
Start the Day with a To-Do List
From Day 1, I would wake up in the morning and jot down my tasks for the day on a notepad. From "check Twitter" to "create graphic", anything I could think of would go down on the list so that I wouldn't forget it. During my weekly stand-up meetings, I would keep an ear cocked in case something I could work on was mentioned, and that would also be scribbled down for future reference. Having all of the tasks I should be working on laid out before me helps me visualize my schedule for the day by highlighting what I need to do first and crossing off items I've finished.
Want a more environmentally-friendly method of list-making? There are online tools like Trello or Notion which are awesome for staying afloat of the day's objectives. Planet Argon uses Trello to keep track of Maintainable podcast episodes, and it's easy to navigate while keeping everyone involved abreast of any progress!
Document Your Work
It's smart to not only keep track of what you need to do but also of what you already did. Just for personal purposes (AKA LinkedIn), I started a spreadsheet to keep track of action items during my internship. This way, after my internship is long over or when I'm asked what I did at Planet Argon, I can easily look back at my spreadsheet and say "Well, the first day on the job, I uploaded my first podcast episode!"
Keeping track of what I finished day-to-day also motivated me. If, say, on one day, I didn't get to finish as much as I wanted, I would push myself to fill out more rows on that spreadsheet the next day.
What my spreadsheet included:
Date I completed the task
Description of the task
Platforms used (such as Twitter or Canva)
Link where applicable (such as a blog post or Tweet)


A peek at what my Planet Argon 'work log' looked like
Ask All the Questions
One drawback to interning remotely was that I didn't have someone right by my side that I could bounce questions off of. However, with the power of Slack, I was able to quickly shoot off an inquiry to the team if I needed anything. Of course, YMMV. Maybe your team answers faster via Jira or email, or maybe you use a different messaging platform. Regardless of what you use, it's important to find the fastest way for you to get answers.
I also had to get over my fear of asking 'dumb' questions. It's true, there's no such thing. As a complete newbie to the digital marketing field, and to some of the tools that Planet Argon used, I needed to ask questions when I got lost. It can be easy to feel like you're on your own and bothering people, but chances are they have the key to your success. Take advantage of the resources you have in the team you're working with because you'd have access to them in-person as well!
(Try to) Be a Virtual Social Butterfly
One of the most enjoyable parts of my internship was being able to attend virtual "company events" where we just got to hang out as a team. From my first collaborative crossword puzzle to a presentation on photography, the socials were a great way to take a mental break from the daily grind, while getting to interact with people I normally didn't cross paths with in my capacity as digital marketing intern. Overall, those events were extremely wholesome and helped me to see the humans behind the names I'd only seen in threads on Slack.
I say 'try' to be a social butterfly because as a naturally shy person, the difficult part about only meeting co-workers through Zoom is that I rarely contributed to meetings, feeling more comfortable while on mute. One thing that helped me get over that anxiety was to write down something I wanted to say, even rehearsing a few times in my head. My reports during the Monday stand-ups went a lot smoother once I figured that out, and I even felt confident enough to throw in humorous comments now and then. My dream of becoming a stand-up comedian might not go anywhere, but at least I saw a couple of chuckles on-screen from my jokes!
Find Tools to Speed Up Your Work
Something I've realized is that there is nearly always some tool to help you do your job better and faster. Need to write a blog post in Markdown but don't have the hang of it yet? No problem, just plug your document into Word2md and it'll do it for you! Can't design to save your life but want a professional-looking presentation? Pick out a template at Slidescarnival!
To help me make graphics based on an already existing brand, I used the Google Chrome extensions ColorZilla and FontNinja. At one point, my laptop was struggling to keep up with all the tabs I had opened and I started using The Great Suspender. If something is slowing you down, a quick Google will probably show you a quick and easy way to fix it!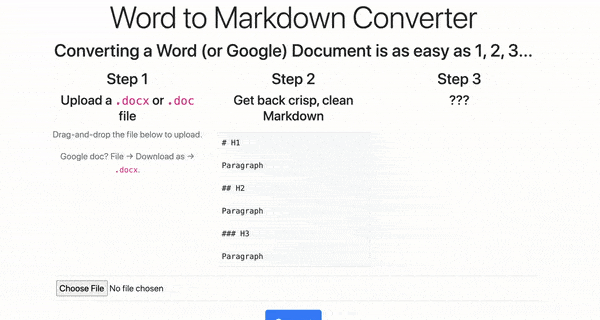 Using w2md.com to convert this very article to Markdown!
Overall, this internship taught me how to be resourceful. Mentorship is an important aspect of the internship program at Planet Argon, and I'm thankful that any questions I had were swiftly answered. Any time I had issues, help was just a short Slack ping or Zoom call away. Remote interning, especially from a time zone three hours ahead of everyone else, wasn't a walk in the park. Just keeping track of the time difference was confusing at times to me. However, with the right support and tools in my arsenal, I was able to maximize my learning while working in a company environment for the first time...all while never leaving my bedroom!